LogMeIn's 'join.me' service adds more features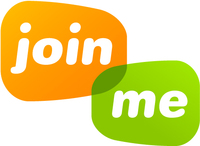 LogMeIn has updated its screen-sharing tool, join.me, with several new features, including the ability to swap presenters during meetings and access join.me from a desktop app. Other pre-existing features include screen-sharing to iPad/iPhone or Android devices.
join.me is a drop-dead simple screen sharing service designed for online meetings and ad hoc, 'show-and-tell' collaboration.
An all-new desktop app, available for both the free and pro versions of join.me, gives users the ability to share their screen or view someone else's screen with a single click – accelerating join.me's already speedy start time. The new version also introduces a Presenter Swap feature for users of join.me pro, making it simple to quickly hand off control of a meeting or collaboration session to any participant.
"The response to join.me's simple approach to screen sharing has been overwhelmingly positive, and we believe this simplicity is opening doors to new types of collaboration far beyond better online meetings. Among the millions of join.me early adopters we're seeing collaboration use cases that would be unthinkable with traditional web conferencing services – the experience is winning over far more than just the legions of unsatisfied meeting goers," said Kevin Bardos, vice president of Collaboration Technologies for LogMeIn. "This favourable sentiment and new type of user is front and center when expanding join.me's capabilities – helping users do even more while retaining a simple, collaborative user experience."
The free version of join.me includes:
screen sharing for up to 250 participants
chat
remote screen control
file transfer
multi-monitor support
downloadable desktop app
iPad/iPhone or Android viewer for session attendees
The 'pro' version of join.me includes:
All the features of the free version
presenter swap
auto-login via downloadable desktop app
personalized meeting link
personalized background
meeting scheduler
meeting lock option for private, invite-only meetings
multi-user management
international teleconference lines
join.me is available for free, for a monthly 'pro' subscription price of £12 or £97 per year.
New and existing users of join.me's free service can try the pro features as part of 14-day free trial.