Rare Ducati racer fuels interest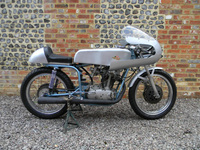 Historics at Brooklands, the auctioneer of fine classic and sports cars, is offering motorcycle enthusiasts equal opportunity to purchase a bike of the same exceptional standard, having consigned an extremely rare former factory racer to its sale on Saturday 22nd October.

One of just six such bikes ever built, the series 2 1965 Ducati 350SC (Sport Corsa) was originally hand crafted for the Barcelona endurance races, and in the late 1960's, was taken by Ducati team rider Franco Farne to South Africa to promote the Ducati brand to a new audience.

Based loosely on the more subtle 250 production bikes, the works 350SC boasted amongst other upgrades, a twin cradle frame, special alloy Marzocchi forks and sand-cast engine cases which housed a close ratio 5-speed gearbox, unique to the 350SC with its wider gears and longer shafts, and weighing just 117kg (257lbs) was capable of reaching 124mph.

More recently, the motorcycle was rebuilt by the renowned British Ducati race engine builder Anthony Ainslie, using new factory parts, and with the engine confirmed in 'as new' condition by Moto Marianna, the bike remains one of the most desirable Ducatis in existence.

Eligible for Goodwood as well as the CRMC and IHRO series of classic motorcycle races across Europe, the rarefied racer is to be sold with spares and tool kit, as well as what little history is known and documented of the 350SC, and offers in the region of £27,500 - £32,500 are encouraged at Brooklands on 22nd October.

For more information, and to attend the Historics at Brooklands auction on the afternoon of Saturday October 22nd, visit historics.co.uk.