Park Holidays UK premiers a caravan for all seasons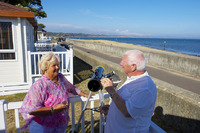 A new range of super-snug holiday caravans from Park Holidays UK has been launched for owners who want to make four-season use of their leisure homes.

Built exclusively for the company, the two and three bedroom homes include a powerful central heating system, double glazing and underfloor insulation as standard.

It means, says company director Tony Clish, that the homes will be equally as warm and welcoming in early spring and late autumn, regardless of the outside temperature.

But despite the high specification of the homes, adds Tony, Park Holiday UK has used its purchasing power with two leading UK manufacturers to keep costs extremely competitive.

Prices start at £24,995 for a new two-bedroom home - and even the top-end three-bedroom 38 x 12 model with family bathroom and en-suite comes in at just £39,995 inclusive of siting.

"Starting the holiday year early and finishing late has been the pattern for a growing number of home owners over the past few years," said Tony.

"However, not everyone wants to pay a premium price to ensure that their holiday home has the ability to heat up quickly, and to retain its warmth economically.

"Our response has been to design our own homes which incorporate these features, and which are built to a guaranteed quality standard by top makers such as ABI and Willerby.

"In other words, our customers will enjoy the specifications which matter most to them without having to pay thousands extra for a branded product," commented Tony.

But the high standards of heating and insulation, he said, had not been traded off against other aspects of comfort, luxury and convenience.

The new holiday homes all provide first-class upholstery and quality furnishings, modern bathroom suites, plenty of storage units, and fully-fitted kitchens with the latest appliances.

New plots to accommodate Park Holidays UK's exclusive range are being made available on the majority of its 25 coastal parks in Devon, Dorset, and southern and eastern England.

Many plots have the advantage of open aspects so that owners can enjoy the changing land and seascapes through the passing of the seasons.

"This is proving a spectacular year for sales, and many buyers tell us that they intend to make full use of their homes from March to October," said Tony.

"With a four-season holiday home, visits needn't rely on a warm spell - and the only thing we've taken the heat off is the price," he added.

More information about holiday home ownership, including a comprehensive buyer's guide and video, can be found at ParkHolidaysUK.com.