New Hong Kong secret lounge retreat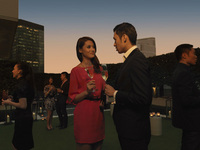 The Upper House has recently launched The Lawn, an urban retreat offering a peaceful and stylish escape, a real treat in Hong Kong. The hotel's outdoor secret garden on level 6 now welcomes guests for cocktails and snacks from its Michelin star rated restaurant Café Gray Deluxe.
With service from the barista in the morning to the late evening cocktail barman, the all day snack menu includes all-time favourites such as Polenta Fries; Tarte Flambée, Seared Chicken Fillets; Turkey Club Sandwich; Foie Gras Bruschetta and the Café Gray Cheese Board. A minimal indoor bar crafted entirely in beige perlato svevo limestone animates the casual lounging experience.
Chef Sommelier, Yvonne Cheung, has selected choices of Champagne, Sauvignon Blanc, Chardonnay, Rosé and Pinot Noir from the old and new world. Guests can recharge with picnic-cocktails including Sauvignon Cooler, Bloody Mary, Pimms Cup and Elderflower Collins.
General Manager, Dean Winter, said: "Outdoor space in Hong Kong has always been a novelty. The Lawn is well placed to offer something special for our guests, who enjoy the atmosphere which The Upper House provides".
The Lawn is open throughout the day from 10am to 10pm from Sunday to Thursday, and 10am to 12am midnight on Fridays and Saturdays.