Head to the Rugby World Cup for less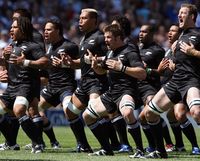 Following the success of the Home Nations in the Rugby World Cup, it looks as though England, Wales, Ireland and Scotland could all make it through to the Quarter-Finals at the beginning of October. Even better, the possibility of a Home Nation playing in a Semi-Final looks within reach based on recent performances.
Knowing that there is no better way to support the teams than to witness the matches first hand, Gullivers Sports Travel, Official Travel Provider of Rugby World Cup 2011, has created a new Semi-Final package offering jaw-dropping value for rugby fans.
Join international rugby stars including Gareth 'Cooch' Chilcott, Stuart Barnes, Zinzan Brooke and Chris 'Buddha' Handy on board Pacific Dawn during the latter stages of the tournament as they transform the luxury cruise liner into a Floating Clubhouse, hosting parties, themed dinners and other events for the rugby mad.
With Pacific Dawn dropping anchor next to the specially created 'Rugby Fan Zone' in Auckland, this package guarantees to be in the thick of the action.
Prices start from just £799pp including three nights full board on Pacific Dawn (14th - 17th October 2011) and official match tickets for both Semi-Finals at Eden Park.
For more information, visit gulliverstravel.co.uk.