Indulge in 'true' wellbeing at Borgo Egnazia's Vair Spa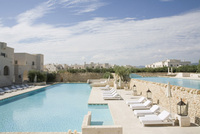 Borgo Egnazia, positioned to become one of the leading luxury spa resorts in Italy, is proud to announce the eagerly awaited Vair Spa is now open.
The opening has revealed the completion of the stunning 1,800m² Vair Spa, developed to become the most spectacular embodiment of pampering in the Mediterranean.
In keeping with Borgo Egnazia's philosophy of preserving local traditions, Vair is based around local Apulian customs and an affinity with the Apulian land. All products are made in Italy, the majority locally and some treatments evoke the therapeutic traditions of the region, while all treatment names are inspired by local dialect, including the title 'Vair' which stands for truth.
All treatments are carefully designed by the spa manager Patrizia Bortolin and her team of psychologists, dermatologists, doctors, yoga experts, nutritionists and physiotherapists to create a truly unique spa experience. Vair is based on naturopathy, psychology and psychosomatic medicine: The team is trained to observe the skin, muscles and understand tension, paying particular interest in non verbal language.
Treatments include the 'Abbell Bel' (Slowly, Slowly), signature facial which celebrates the welcoming and natural attitude of local people and 'Kiuv' (It rains); a delicate ritual of hot essential oils, designed to improve natural posture and reach the inner essence of the recipient whilst performed with the simple and immediate flair of the Apulian people.
Highlights of the signature 'U Megghie Megghie' treatments includes the 'Amaur' (love) which acts to promote inner creativity with ten Apulian products delicately mixed, 'U Berefatt' (well-toned) which includes a meditative basil steam shower followed by an Apulian scrub with pink salt-water and mind-clearing massage and The Juwel Massage 'Alla Skrdom' (suddenly) which is a transformational massage, improving force, self-esteem, balance and optimism and is performed with olive oil and lemon.
The 1,800m² Vair Spa, designed over two levels, includes fourteen treatment rooms, a spa suite with a garden and steam room, a 'social suite' for hands and feet, an infusion bar and a heated indoor pool. The initial launch of the Spa in the summer of 2010 included the 11 top floor treatment rooms and swimming pool. The redevelopment on the lower floor, which opened last month, has created an oasis of relaxation and rejuvenation and offers an authentic approach to wellbeing with a yoga Iyenghar studio, salon and gym, flotation room, men's barber shop, plus a breathtaking wet area reproducing the Ancient Roman bath with a Tepidarium (warm room), Calidarium (hot room), Figidarium (cold room), two scrub rooms, an Apulian Sauna (with salt and basil) and a signature Roman-Apulian wet experience which has been designed to re-awaken ancient traditions.
For more information on Borgo Egnazia, visit borgoegnazia.com.