Ducati unveil new headquarters at Silverstone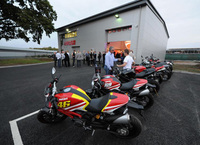 Ducati UK unveiled their new offices at an exclusive opening ceremony at Silverstone Circuit on Monday as Ducati UK celebrated their move to purpose-built new offices.

The official unveiling was hosted by Tim Maccabee, Managing Director of Ducati UK, Gabriele Del Torchio, CEO of Ducati Motor Holding, Derek Warwick, President of the British Racing Drivers' Club and Richard Phillips, Managing Director of Silverstone Holdings Ltd.

The day began with a track session at the circuit where guests had the opportunity to try out the entire Ducati range including the award winning Diavel as well as Superbikes, Monsters and other favourites from the range. Riders taking to the track included BSB stars Michael Rutter, Chris Walker and Scott Smart as well as many guests from Silverstone, BRDC, Ducati partners and other friends and guests of Ducati.

After the track session guests made their way to the new Ducati UK premises where they were joined by other guests who had arrived for the official opening ceremony.

The construction of the 8,000 square foot premises includes offices, a warehouse, dealer training rooms, a workshop servicing the press and demonstrator fleets (now brought back in-house) and the potential for a retail outlet for the sale of Ducati merchandise during major track events.

The new Ducati UK premises is situated close to the Silverstone Innovation centre on the outside of Woodcote corner. This purpose built facility heralds a new era for Ducati in the UK as it becomes part of the on-going development of the Silverstone site which the home of two and four wheeled motorsport in the UK.

Tim Maccabee commented on the imminent move to their new HQ, 'The relocation to Silverstone will enable Ducati UK to work with Silverstone on customer events as we did recently with Ducati Days, making the best use of our demonstrator fleet in an appropriate local environment. Ducati is synonymous with Motorsport and to be located at Silverstone is the perfect fit for our brand, Silverstone is going through some exciting times and we are delighted to be a part of it.'

Richard Phillips, Managing Director of Silverstone Holdings Ltd welcomed Ducati's relocation to Silverstone, 'I am delighted that Ducati UK has chosen Silverstone Circuit as its new home. To have a brand like Ducati is an important step as we continue to develop the Silverstone estate. We have over 230 acres being released for development over the next ten years which will include a technology park, manufacturer brand centres, business park and leisure zones as well as hotels, conference and education facilities and a new visitor centre. We welcome Ducati being at the forefront of these developments and being part of an exciting future for Silverstone.'

Derek Warwick and Gabriele Del Torchio then performed the ceremony of unveiling the opening plaque after which festivities commenced in the new warehouse turned nightclub!