Vauxhall's new pocket rocket set to corner market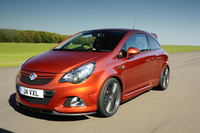 Vauxhall's new Corsa VXR Nürburgring Edition promises to be one of the quickest B-road cars in its class, as the first cars become available in UK showrooms this month.

At the heart of the Nürburgring is a re-worked version of the Corsa VXR's existing 1.6-litre turbocharged engine which now produces 205PS at 5,750rpm (up from 192PS) and 250-280Nm of torque (up from 230-266Nm). A modified engine management and turbocharger system, sports exhaust with reduced back pressure - and the ability to run on 98-octane fuel - have all contributed to the rise in power.

To harness the Nürburgring's new-found power potential, Vauxhall has fitted it with a mechanical, multi-plate limited-slip differential, ensuring that its 205PS doesn't go up in a cloud of tyre smoke, and providing the car with optimum traction at all times. Understeer is reduced dramtically, to the extent that the more throttle the driver applies through a bend, the more the vehicle grips!

But perhaps the icing on the Nürburgring's cake is its chassis, which received its final sign-off at the Nürburgring's notorious Nordschleife, or North Loop. Vauxhall commissioned Bilstein to develop bespoke spring and damper units for the new model, allowing drivers an even higher degree of control and involvement. A visual clue of this work is a ride height which is reduced by 20mm at the front and 15mm at the rear.

The effect of the upgrades is breathtaking, the Nürburgring offering a degree of chassis balance and composure – as well as sheer grip – almost unheard of in its class.

Complementing the chassis mods are newly developed Brembo brakes, which are 30 per cent lighter than before, and have high-performance brake linings covering a 10 per cent larger area. In addition, the Corsa VXR's ABS, Traction Control and Electronic Stability Control systems have all been recalibrated to take into account the Nürburging's new set-up.

With performance of 0-60mph in just 6.5 seconds and a top speed of 143mph, the Corsa Nürburgring will deliver all the driving thrills you'd expect from a car wearing the legendary track's name. But just in case anyone was in doubt, the new model gets a raft of visual identifiers: a stainless steel dual exhaust, newly designed forged aluminium wheels in high-gloss grey, and 'Nürburgring' logos on the B-Pillars and front spoiler lip. There are also two new colours available – apple green 'Grasshopper' and red 'Henna'.

Inside, black and red 'Nürburgring' lettering adorns the sill plates and front Recaro seat backs, with bespoke white stitching on all seats, as well as the handbrake and gearshift console.

The Corsa VXR Nürburgring Edition is on sale now, priced at £22,295.