One world, two wheels - New cycling trips from Exodus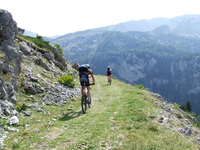 When the Olympic Games unfold in London in 2012, the most watched sport will be cycling, with a million people expected to watch. Tour de France attracted more than 15 million viewers and Olympic Champion Chris Hoy is a household name, but don't stay glued to the TV screen - venture on your own cycling adventure, and with Exodus, the UK's leading adventure tour operator, you can choose from up to 60 different trips across 35 countries.
The choice of trips for biking enthusiasts is vast and this year, responding to the massive growth in interest for cycling in general, Exodus has added 14 new trips to the menu. Travellers can now venture into an additional five countries on their two wheels - US (Alaska), Costa Rica, Czech Republic, Greece and Iceland - and enjoy trips that include cycling in Alaska, biking in the Southern Alps, cycling the Dolomites, Lake Garda and Venice and eight days cycling in Southern Iceland.
And if you needed any more persuasion, book before 31 December 2011, and benefit from savings of up to £50 per person per trip on any of Exodus' new Cycling Holidays. There has never been a better time to escape on two wheels. Here is a selection of the newest trips:
Cycle Southern Iceland - eight days from £1,999 including flights and most meals. Next departure dates are 23 June and 7 July 2012.
A country shaped by violent eruptions and remorseless glaciers, it is a great place to explore from the saddle of a bike. In such a sparsely populated country, with so little traffic, cyclists can really get under the skin of the country and feel a great sense of isolation and wilderness, passing the infamous Eyafjallajokul Volcano, the colourful mountains of Landmannalaugar and the 25m high mass of water known as the Skogafoss Waterfall.
Cycle Alaska - 13 days from £3,559 including flights and most meals. Next departure dates are 9 June and 18 August 2011.
Nowhere else on earth offers such a perfect blend of excellent tarmac laid through pristine wilderness as Alaska. Thousands of miles of quiet roads and tracks offer the only interruption to a vast land of glaciers, rushing rivers, dense forest and towering peaks: ideal for the adventurous cyclist and an utterly unique biking experience. The wildlife is the epitome of North America and Grizzly bears, Bald eagles, moose, elk and wolf may be spotted from the saddle. Crossing Prince William Sound gives cyclists the perfect opportunity to look for whales, orcas and sea lions whilst another highlight is cycling close to North America's highest peak, Mt McKinley at 6198m.
Costa Rica Coast To Coast Ride - 15 days from £2,449 including flights and most meals. Next departure dates are 3, 31 March, 18 August and 24 November 2012.
For rainforest, volcanoes as well as stunning sections of coastline, Costa Rica is the only choice and to experience that variety of terrain by bike is an extraordinary. Starting in San Jose the Exodus group cycle south, covering a stretch of the picturesque coastal highway, with vast Pacific views to the right and dense forest to the left as far as the eye can see. Through the rainforests, travellers can hope to see wildlife including monkeys and iguanas as well as eagles, hawks and Scarlet macaws. Crossing the 11,000ft Cerro de la Muerte pass into the Orosi Valley the group cycle past coffee plantations and volcanoes to arrive on the fertile Caribbean plains where huge banana plantations cover the landscape. The final stage of the trip journey takes cyclists to pretty La Fortuna, a lovely spot located at the foot of Arenal - Costa Rica's most active volcano.
To book, visit exodus.co.uk.