Peugeot helps banish the insurance blues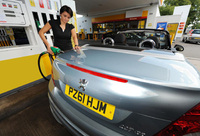 More and more motorists have been turning to Peugeot as a way of beating the so-called insurance blues.

Following reports the Office of Fair Trading is investigating claims that motorists are facing up to 40 per cent rises in their premiums, Peugeot customers who sign up to its pioneering Just Add Fuel scheme do so safe in the knowledge their insurance premiums will be covered in their set monthly fee and, more importantly, will go unchanged for three years.

Available to drivers aged 25 years and older, Just Add Fuel wraps up the costs of motoring into one monthly amount.

Hailed as a huge success, it has accounted for thousands of registrations in its first full year, with many customers totally new to the brand and, Peugeot says, it has lowered the age profile of its new car drivers.

Neil Moscrop, Sales Director, Peugeot UK, said: "In these tough economic times, motorists want to know exactly where their finances are on a monthly basis and Just Add Fuel achieves that goal. The cost of insurance is an extremely volatile subject and to some, is very worrying. Our scheme eradicates those worries."

Illustrating the simplicity and value of Just Add Fuel, a 25-year-old driver who puts down a £1,500 deposit can drive away in a Peugeot 107 Urban for just £169 per month, a sum which includes financing the vehicle, along with three years' comprehensive insurance, servicing, breakdown cover, road tax and warranty.

Drivers aged below 25 can also be buoyed by research conducted by Confused.com, one of the UK's biggest and most popular comparison services, which showed the Peugeot 107 as one of the cheapest cars to insure for 17 to 20 year olds with a typical monthly premium of £166.20 for comprehensive cover, less than half the cost of other brands.