Christmas market in Tivoli Gardens, Copenhagen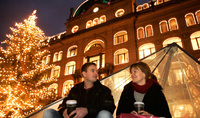 Tivoli Gardens celebrates a Russian inspired Christmas from 11 November to 30 December with the launch of a 2000 m2 Russian city within the amusement park. Among the attractions of the Russian city is a Tivoli version of St. Basil's Cathedral at the Red Square in the Kremlin, featuring a 21 m tower with onion domes and a carillon.
For the 18th year running, Tivoli Gardens celebrate a magical Christmas in the heart of Copenhagen. New to this year's celebration is the 2000 m2 Russian city, inspired by the building style from the day of the Czars with opulent onion domes, towers and the sounds of carillons. Inside St. Basil's Cathedral, visitors can board a miniature version of the Trans-Siberian railway taking them through Russian landscapes featuring pixies, angelic choirs and extravagant Fabergé eggs.
Two years in the making
The Russian city has been two years in the making with Tivoli's architects, set designers and gardeners drawing, travelling and developing new ides. As a result, the traditional Christmas tree usually located at the fountain in front of the Concert Hall is moved to the Russian city. Here the Christmas tree will rise as an iconic tower enveloped in thousands of lights. New stalls with towers and onion domes decorated with an abundance of ice crystals and spruce branches will be erected, creating a very special atmosphere. As usual, the Gardens will also be decorated with lots of lights, thousands of Christmas baubles and spruce trees.
Father Frost makes his entrance
When Christmas in Tivoli opens this year, the traditional Father Christmas will be replaced by his Russian counterpart, Father Frost, who will enter the sleigh on the Open Air Stage in bluish, frosty colours. He is very similar to our Father Christmas and is regarded as the Russian version of the Western Father Christmas. Father Frost handles the heavy job of distributing presents with the help of his lovely grandchild, "Snegurochka", or the Snow Maiden.
Christmas stalls and amusements
Apart from the new Russian city, the magical Christmas in Tivoli also include cosy wooden stalls selling different Christmas items and sweets. In addition, all amusements will be open including special amusements only open throughout the Christmas period. Christmas in Tivoli Gardens is open from 11 November to 30 December (except from 24-25 December).
Tivoli in brief
Since Georg Carstensen opened the gates of Tivoli to visitors in 1843, the Gardens have become a top amusement park featuring the Tivoli Boys Guard, 26 rides, playgrounds, booths, restaurants, special days and concerts. At 167 years of age, Tivoli is among the world's oldest amusement parks, and its traditions and constant improvements make it a popular excursion spot for many visitors. Tivoli has about 4 million visitors every year, and 2010 saw the opening of the Tivoli Hotel, the first theme hotel in Copenhagen.
For more information about Copenhagen, visitcopenhagen.com.
For all information about Denmark, visitdenmark.com.