Christmas in Lake Garda expected to be top seller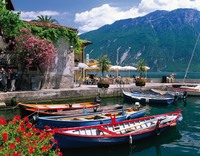 South West coach operator Bakers Dolphin has launched a new break to Lake Garda over the festive season following the popularity of the Italian destination in the summer months.
The break is one of 26 new festive destinations the Weston-super-Mare based company has launched for 2011.
The 7-day stay, including Christmas Day, in Lake Garda is a Gold Coach tour meaning travellers can enjoy extra luxury and comfort on the way.
Bakers Dolphin sales and marketing director Amanda Harrington said: "We have seen a huge increase in interest for festive and New Year breaks in the past few years, so much so that this year, we have introduced 26 new tours.
"Our breaks are designed to take the pressure off at a stressful time of the year. People don't have to worry about catering for the family and the dreaded washing up as everything is done for them, I think this is why they are so popular.
"Lake Garda is one of our most popular destinations in the summer months and we realised it could also make a perfect festive break. People can expect a magical winter wonderland with twinkling lights, colourful Christmas trees everywhere and a castle built in 100AD."
As well as Lake Garda, Bakers Dolphin has also launched new 5-day breaks like New Year in Torquay and Christmas in North Yorkshire.

There is also the option to take a pre-Christmas getaway to the markets of Brussels, Bruges or the Italian Dolomites for some retail therapy.
Amanda continued: "People are often tight for time around this hectic season, so there is also a chance to sit back and relax whilst being driven to the UK's retail centres for an overnight shopping spree. With the option to visit Bluewater and Lakeside, Chester and the Manchester Trafford Centre, Leeds or Central London from just £99, our customers are truly spoilt for choice leaving no excuse for not finding the perfect Christmas gifts!"
For more information, visit bakersdolphin.com.