Team Mazda UK to compete in World Aerobatic Championships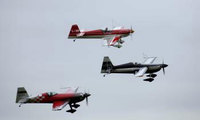 Team Mazda UK will compete at the World Aerobatic Championships, Silverstone in August in a bid to put a British pilot on top of the podium for the first time in the history of the championships. The team of six pilots, known as Team Mazda UK, will receive coaching and training leading up to the World Aerobatic Championships as part of Mazda's sponsorship of the British Aerobatic Association.
The successful Team Mazda UK pilots were selected based on their performance in both the European and British Championships in 2008. Team Mazda UK boasts a wealth of aviation experience including: Gerald Cooper, 38, from Lincolnshire, Chief Pilot and Engineer for his family-owned aviation business; ex-Royal Navy Officer Nick Onn, 50, from Connecticut, USA and Mark Jefferies, 51, from Bedfordshire, a well-known display pilot and owner of an aircraft sales and brokerage company, based at Little Gransden airfield.
The team is completed by Tom Cassells, 54, from York, MD of a logistics company; Kester Scrope, 39, from Hertfordshire, a COO for a leading head hunting company, and the team's warm-up pilot: Richard Pickin, 55, from Kent, a retired company director.
Team Manager, David Cowden commented: "We have a strong team of talented and skilled pilots who won the team bronze medal in the European Championships 2004, and narrowly missed the team bronze again in 2008 to the Spanish team in the last lap."
"Thanks to the support from Mazda and the incentive of a home venue for this year's World Aerobatic Championships there is every possibility of the British pilots doing exceptionally well, both individually and as a team, in the Championships this August."
Over 60 pilots are expected to enter the World Aerobatics Championship from 16 countries at Silverstone. To win, Team Mazda UK pilots will have to fly with extraordinary precision a series of complex manoeuvres. This requires enormous mental capacity and the ability to operate under extreme physical discomfort caused by high G-Force. Each pilot will fly up to five flights during the championships and the World Champions will be determined in the Classic and Freestyle disciplines.
Sales and marketing director for Mazda UK, Mark Cameron added: "We look forward to seeing Team Mazda UK in action at the World Aerobatic Championships at Silverstone. The pilots are among the best in the world and possess a rare blend of physical and mental skills required to perform such challenging aerobatic manoeuvres to the degree of perfection required to win a World Championship medal.
"We are privileged to be part of such a truly spectacular flying event, particularly as the sport of aerobatics and the emotions felt when flying epitomise Mazda's brand values of excitement, daring and fun."
For more information on the World Aerobatic Championships 2009 visit: wac20009.com