British company uses "osteo-arthritis suit" to understand customers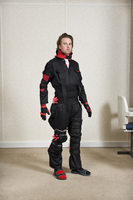 An iconic British company has gone to incredible lengths to simulate the effects of arthritis and so help their sales teams better understand the challenges their customers face.
World-renowned stairlift manufacturer Stannah Stairlifts purchased the state-of-the-art osteo-arthritis suit from researchers at Loughborough University so that their engineers and sales staff can better understand what it is like to suffer from the condition, helping them to reach out and empathise with prospective customers around the world.
With over 9 million people in the UK suffering from arthritis, and the condition accounting for 1 in 5 GP visits, arthritis is the number one cause of disability in the UK. And with arthritis affecting the elderly, the number of sufferers is expected to increase as the population ages.
The Osteoarthritis Suit simulates osteo-arthritis in the knee, hip and hands and comes with a sock that mimics a bunion.
The suit has already given research and development experts at Stannah valuable insights into how they might improve product design and will be used in training and induction sessions to help staff throughout the business understand more about the challenges a large number of Stannah customers face.
Sharon Cook, Manager of the Loughborough SKInS (Sensory and Kinaesthetic Interactive Simulations) Programme which researches and develops Wearable Simulations of given health conditions said: "The aim of the Loughbrough SKInS: Wearable Simulations is to enable those without a health condition, such as osteoarthritis, to obtain some insight into how it feels and what its impacts to daily living might be. In this way, empathy with suffers is generated amongst designers, sales teams and staff trainers, thereby guiding improvements to future product and service design.
"Since the number of over 85s in the UK is projected to more than double by 2035, it can be assumed that the prevalence of arthritis will also increase. Therefore all organisations – from supermarkets to air carriers – will need to radically consider how they can accommodate this growing market segment and Wearable Simulations are a powerful mechanism for facilitating this change in approach."
Nick Stannah, Product Marketing Director at Stannah Stairlifts, added: "The arthritis suit has helped people at Stannah better empathise with our customers who suffer from arthritis. Britain is ageing, and arthritis is a growing issue. It is through innovative techniques like this that we can ensure our products and staff continue to help our customers retain their independence in and outside of the home. Indeed, the Osteoarthritis Suit is already having a very positive impact on how Stannah designs its products and empathises with the needs of its customers"