Perth puts on an Aussie barbecue with The Queen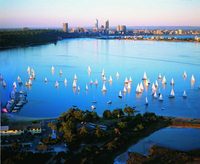 The Queen and the Duke of Edinburgh will be in Perth to open the Commonwealth Heads of Government meeting (CHOGM) from 28th to 30th October. The event, which attracts leaders from 54 countries and over 3,000 delegates, coincides with a huge revitalisation of Perth aimed at establishing WA's capital as one of Australia's hottest cities and attracting more visitors.
Colin Barnett, the Premier of Western Australia, said the Big Aussie Barbecue on 29th October would be a highlight of the royal couple's state visit.
"The barbecue will be held on the morning of Saturday 29 October at locations along the Perth foreshore and we want thousands of people to join the festivities and see The Queen and The Duke of Edinburgh," Mr Barnett said.
"Numerous barbecue stalls will be located throughout the area and volunteers will be cooking sausages which can be purchased via a gold coin donation. Funds raised will be distributed among various charities and community groups, still to be nominated."
The Premier said free public transport on the Transperth network on both Friday 28 October and Saturday 29 October would assist those wanting to be a part of The Queen and The Duke of Edinburgh's visit.
Perth is currently undergoing a series of improvements from converting heritage buildings into new hotels to the building of new performing arts and sports arenas and a major redevelopment of Perth's waterfront. Many of these changes will be completed in time for the Queen's visit, including new visitor facilities at King's Park, one of the world's largest inner city parks and a central venue for CHOGM, and the redevelopment of St George's Terrace, reducing traffic and opening up the space for al fresco dining in the heart of the city.
Five reasons to follow in the Queen's footsteps:
1. Thanks to changes to local licensing laws, Perth's nightlife is undergoing a renaissance with a wave of small restaurants and underground bars popping up in laneways across the city. Let the locals show you the newest and very best with a guided 'Eat, Drink, Walk' tour (twofeet.com.au).
2. The arts scene is also flourishing. The Art Gallery of WA (artgallery.wa.gov.au) is currently hosting the Western Australian Indigenous Art Awards, an exhibition celebrating the breadth, diversity and excellence of art from all corners of Indigenous Australia, from 13 Aug - 19 Dec.The city's cultural institutions have also just signed two huge partnerships; the Western Australian Museum has signed a five-year deal with the British Museum to exhibit some of its most important objects. This starts this month with Extraordinary Stories (museum.wa.gov.au/about/latest-news/extraordinary-stories-just-first-chapter): The Commonwealth Objects from the British Museum, a unique collection of rare artefacts, representing many of the 54 Commonwealth countries. In addition the Art Gallery of Western Australia (artgallery.wa.gov.au) has partnered with New York's Museum of Modern Art (MoMA) to host six exclusive exhibitions drawing on their extensive collection. The first exhibition, which includes pieces by Andy Warhol, Henri Matisse and Pablo Picasso, will launch in Perth on 16 June 2012.
3. Fremantle's fascinating maritime and convict history came under World Heritage listing last year. Explore it on a tour (fremantleprison.com.au/Visit_Us/tours/Pages/default.aspx) or similarly soak up the laidback ambience along with a flat white along the Cappuccino Strip or dine on the day's catch at the Fishing Boat.
4. Perth gets more hours of sunshine than any other Australian capital city and there are 19 city beaches to enjoy it on. Cottesloe is the local's favourite, snorkel, learn to surf or sit back and enjoy the sun setting into the Indian Ocean.
5. Perth's reliable windy conditions keep the city cool, even in summer heat, but also draw windsurfers and sailors from around the world. In December 1,400 sailors and tens of thousands of spectators will visit Western Australia for the ISAF World Sailing Championships (perth2011.com). This two-week Regatta is the qualifying event for each of the 10 sailing events at the London Olympics in 2012. Watch the experts or brush up your skills with lessons along Perth's pristine coastline.
Austravel has a 10 day package to Perth and the South West Coast from £1,849 per person. This includes return flights from London Heathrow to Perth departing selected dates in October 2011, four nights accommodation at the 4* Somerset Street Georges Terrace Hotel, Perth, six day self-drive of Margaret River and the South West, including 4* accommodation and car hire. For flights to Australia or to book this package, visit austravel.com.