New Fiat 500CbyGucci arrives in London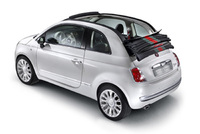 The stunning new Fiat 500CbyGucci, which has created a wave of remarkable interest across the world, will be the star of an original tour stopping at some of the most famous cities in Europe, including London this weekend.

A striking 5m3 crystal cube with elegant black lacquered top and bottom will be set up in the Covent Garden Piazza, from 16-19 October, housing the Fiat 500CbyGucci.

The convertible version of the Fiat 500byGucci – once again customised by Gucci Creative Director Frida Giannini in collaboration with Fiat's Centro Stile style centre – is available in two colours: classic black and white, with a distinctive glitter finish. These two exceptional colours complement each other – the black with detailing in shiny chrome is paired with a contrasting interior for a contemporary and racy finish. The white with satin chrome detailing offers a softer, more sophisticated look.

The Fiat 500CbyGucci is embellished by 16-inch alloy wheels characterised by the unmistakable retro design of the spokes, in perfect harmony with the exterior colours: a first for cars in this category. The hub caps have a double "G" logo in matching body colour and the Gucci signature in italics is displayed on the tailgate and door pillar.

The interior also brims with style: classic stitching, exclusive materials, satin and polished chrome-plated elements, a velvet-effect finish on the radio panel and two-tone Frau leather seats with Guccissima print. The Gucci web theme also appears on the seats, gearbox, key cover, mats and, with an innovative finish, on the seat belts.

As well as the car there will be a display of a selection of pieces from the Fiat 500byGucci collection, including travel accessories, small leather goods, driving gloves, eyewear and a watch.

The London leg of the exhibition is part of a travelling tour showcasing the new Fiat 500CbyGucci which includes stops in Saint Tropez, Berlin, Barcelona, Milan, Rome and Geneva.

The Fiat 500byGucci range starts at £14,800.