Peace Gardens by world's best designers on show in Japan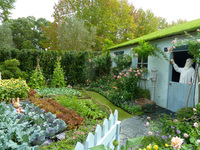 Fifteen extra-ordinary peace gardens by the world's best designers from Australia, North America, Europe, Africa and Asia are on show this month at Huis Ten Bosch theme park in the South East of Japan.
The gardens are the legacy of Japan's second Gardening World Cup and its theme of 'gardens for world peace and a prayer for Japanese recovery'. This year it is being held in aid of the victims of the Japanese Tsunami.
A hand-folded paper garden, inspired by a Japanese legend promising those who fold a thousand origami cranes will be granted a peace wish; sunflowers representing those planted in Fukushima to rid the soil of radioactivity; the figure eight, the Japanese Hachi symbol for happiness and good fortune; the story of the Black Saturday fires of Australia; a faith, hope and peace garden with an invisible path; a 'tearful eye'; and European motifs of peace are amongst the many gardens that can be seen by the public.
Visitors voted for their favourite gardens last week, its first week of opening, (8 October) choosing a Lake District cottage garden, based on one of Beatrix Potter's tales and a garden designed by Japan's equivalent of Monty Don and Alan Titchmarsh rolled into one (Kazuyuki Ishihara).
The Gardening World Cup takes place in a large 17th century Dutch replica theme park, Huis Ten Bosch. 100,000 people visited it in its first week last year and its opening was extended by a further three months. This year's show is on until the end of October and possibly longer.
Jim Fogarty's Australian entry was overall winner. For full details of medal and award winners please visit: gardeningworldcup.com