Five star luxury - it's a dogs life!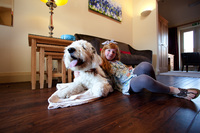 Most humans would agree that 'it's a dog's life' however, many are reluctant to take their beloved pets with them when holidaying, perceiving the experience to be unnecessarily stressful.
In an effort to counteract this perception, the wonderful Hodsock Priory on the South Yorkshire/North Nottinghamshire border allows dogs into their five star accommodation at 'The Courtyard at Hodsock' ensuring everyone can have a happy holiday enjoying walks together within the 800 acre estate.
"We are a country retreat and recognise that many dogs would like to be able to take their humans with them on a well-earned break," commented Lindsay Jones manager The Courtyard at Hodsock. "We do recognise that it may seem a stressful proposition but here are our top tips to ensure everyone enjoys themselves."
Take some of your pet's home comforts with you such as bed, toys and blankets.

Don't feed your dog before a long journey, wait until you get there and your dog is acquainted with its new surroundings.

Allow them plenty of exercise so that they are tired, well fed and happy at bedtime. The perfect recipe for a good doggy night's sleep; just like humans!
Accredited through 'Enjoy England' The Courtyard also received five stars at its inaugural inspection earlier this year delighting the whole team.
One happy couple Geoffrey and Judith along with their dog, Beau, thoroughly enjoyed their mini break at Hodsock and commented: "It was fantastic we all had a wonderful time exploring the delights of the estate and Beau particularly enjoyed sampling the delicious home-made cookies that were left in the room as a welcome gift! We shall be looking to return, that is certain – it was the best dog friendly place we have ever stayed we were given a room just like all the others!"
"It is all about welcoming our guests, including our canine ones, and ensuring they have a simply wonderful time whether they are here for business or pleasure," commented Lindsay. "We have been very pleased with the number of enquiries and guests we have welcomed that are thrilled they can bring their pets with them and still enjoy a five star experience."
2012 sees the 21st anniversary of the famous Hodsock Snowdrops and there will be several special events to mark this historic occasion. Further details of all events and The Courtyard accommodation at Hodsock Priory can be obtained by visiting hodsockpriory.com.