Intuit announces UK launch of QuickBooks 2012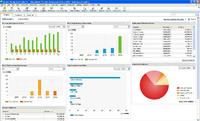 Intuit has announced the UK launch of QuickBooks 2012, the latest release of its popular financial management software for small businesses. QuickBooks is the number-one selling small business accounting software in the UK.
QuickBooks simplifies financial management, helping small business owners save time by organising their finances all in one place and making it easy to create invoices, track sales and expenses and automatically calculate and eFile VAT returns directly to HMRC.
The new QuickBooks 2012 is easier to set up and use with many improvements to help small business owners get up and running in fewer steps, stay on top of their finances with more at-a-glance views and save time on every day accounting tasks.
QuickBooks 2012 will be available in the UK for download from quickbooks.co.uk from the 25th October 2011 and on CD from Intuit and select retailers, including Amazon, PC World and Staples, in November.
Intuit has a customer led approach to innovation with deep customer insights as the driver of new features. Based on feedback from small businesses, new and improved time saving features in QuickBooks 2012 include:

New Setup Wizard. Includes coaching tips to help navigate through first tasks so new users can get up and running in minutes. Plus, contacts can be imported from Excel or email address books.

Calendar View. Quickly scan invoices, billing, past transactions and more items with a single click in the new Calendar. The improved to-do list captures more relevant information and displays it all in a calendar format.

Collection Centre. Stay on top of money owed with the Collections Centre. Quickly identify overdue and almost due invoices and email all collection notices from Outlook, Yahoo, Gmail or Hotmail accounts in a few steps.

Batch Invoicing. Automatically create a full set of invoices for customers with the same service. Create an invoice once and QuickBooks will automatically send to selected customers.

QuickBooks Search. Quickly locate any account, report, invoice, contact or transaction with QuickBooks Search, by keyword.
The new QuickBooks 2012 Payroll includes new time saving features, such as Save and Resume, enabling employers to easily pause payroll and come back later. The new Net-to-gross calculator enables employers to enter a net amount and QuickBooks will calculate and add the proper tax withholding and deductions – helpful when paying an employee a fixed new amount, such as a bonus.
For business owners who prefer to manage their finances online, Intuit offers QuickBooks Online, which it launched in the UK in April 2011. QuickBooks Online is one of the world's leading online accounting services with more than 283,000 subscriber customers globally.
Pernille Bruun-Jensen, managing director for Intuit UK, said, "Good financial management is the key to long term success and yet, three out of four small businesses in the UK continue to struggle with manual methods, typically pen and paper records or simple spreadsheets, to keep track of their finances. Often they are unaware that there is a better way or are worried that they need accounting knowledge to use financial management software. With QuickBooks 2012 we are making it much easier for small businesses to get on top of their finances and save time – so they can do more of what they love."
QuickBooks 2012 is designed with small businesses in mind and many small businesses were involved in the product development and testing process. Intuit conducted extensive observation of customers in their workplace as part of its Follow-Me-Home programme and the product was put through its paces by hundreds of small business QuickBooks 2012 beta users in the UK.
Ian Walker from Antares Supplies Ltd, a business equipment company and QuickBooks Premier 2012 beta user, said: "I found the installation and upgrade to QuickBooks 2012 to be easy and seamless. Whether you are a new user or an old hand with QuickBooks it could not be easier to get started. QuickBooks helps to speed up the day to day running of our business. We have been using QuickBooks for ten years and it is an invaluable all round tool for our business."
Phillip Barrett from Justplay Ltd, another QuickBooks Premier 2012 beta user, said: "QuickBooks 2012 is a great product. It is even easier and more intuitive to use than previous versions. The addition of a calendar and multiple entries adds great functionality without sacrificing any of the ease of use which QuickBooks is known for."
QuickBooks 2012 will be available in five versions in the UK, including QuickBooks SimpleStart, QuickBooks Pro, QuickBooks Pro + Payroll, QuickBooks Premier and QuickBooks Premier Plus. Pricing will be announced closer to availability.
QuickBooks is ICEAW and HMRC Payroll Standard accredited.
For more information, visit intuit.co.uk.