Move your holiday home to a Haven holiday park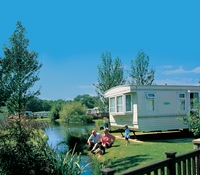 For thousands of couples and families the benefits of owning a caravan holiday home by the sea are obvious.
Owning a luxury, modern static caravan by the seaside is an ideal way to enjoy not just one holiday but regular holidays – every weekend and all through the summer if you like!
And if you haven't actually tried it for yourself you'd be surprised at the level of comfort caravan holiday homes offer, Tardis-style they manage to include an impressive array of fixtures and fittings. Depending on the make and model you choose you might expect 'ready-to-move-into' kitchens with washing machines, range-style cookers and large fridge-freezers. Comfortable free standing or wrap-around furniture, central heating and double-glazing to keep in the heat and keep out the draughts and even ensuite bathrooms.
But once you've discovered the joys of caravanning it might pay you to compare what's available on different parks. Whilst some people might be happy with a simple bolthole by the sea there are many advantages in a park that offers a wide range of facilities, activities and 'added extras' for Owners and their families.
Haven, who have 34 holiday parks in some fantastic locations around the UK, provide a range of attractions from heated indoor and outdoor pools and all weather sports courts to golf courses, tennis courts, fishing lakes or even well-equipped gyms and Spa facilities. They have invested a whopping £55milion in their parks over the last year and much has been spent on improving the facilities, lounges and benefits for the owners of holiday homes on Haven's parks.
Owners on Haven parks automatically become part of 'Owners Exclusive' which enhances the ownership experience still further with special events ranging from exclusive use of the facilities at certain times to regular social 'dos' such as the hugely popular seasonal balls and 'Big Weekends' where free activities include wine tasting, clay pigeon shooting and themed party nights.
If you already own a static holiday home and are looking longingly over the fence at what Haven offers you can take advantage of the support they have available if you'd like to move your caravan onto one of their parks. They will cover the costs of transportation and connection within the UK if you'd like to re-site your current caravan on one of their 34 Parks. The offer is subject to a minimum standard of caravan condition and availability but well worth checking out!
Visit moveyourcaravan.co.uk or ukholidayhomesales.co.uk if you'd like to check out the range of holiday homes available to buy.