UK's youngest luxury dealer group opens sixth Infiniti centre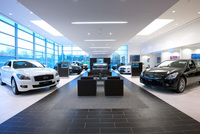 Unparalleled customer care is at the heart of the UK's youngest luxury automotive dealer group which opens its latest Infiniti Centre in Leeds today. Mana Premiere Automobiles Ltd (MPA), a privately-owned company established in 2009, has four of the six UK Infiniti Centres so far trading and plans to add six more within the next three years – all of them majoring on levels of hospitality and service special even by luxury car standards.

"This is the second Infiniti Centre to open in the UK within a month and is a milestone in the brand's development," said Bernard Loire, Vice President Infiniti Europe and Middle East. "The UK is a key market for the growth of Infiniti and our ambition to take one in 10 luxury car sales across Europe by 2016. To achieve that we will need around 40 Infiniti Centres in the UK and thanks to partners like MPA we are on course to achieve that."

MPA represents a first move into the UK automotive business by parent company, Qatar-based Saleh Alhamad Al Mana Co which has retailed cars since 1962 in countries of the GCC (Gulf Co-operation Council) region which includes Saudi Arabia, Bahrain, Kuwait, Oman, Qatar and the United Arab Emirates (UAE). Today the group has a billion dollar turnover, 2000 employees and interests in the hotel, engineering and food sectors, as well as running successful Infiniti, Nissan and Renault dealerships in the GCC region.

"Like Infiniti, the Al Mana group puts customer service before everything," said MPA Operations Director Lisa Ford. "Our philosophy is a simple one: customers are for life. At our Infiniti Centres we look after them not solely with welcoming surroundings, but with a deep understanding of our products and their needs."

A former Mercedes-Benz retail director and general manager with HR Owen in London, Lisa Ford added: "By modeling our customer service on standards in the hospitality industry, not on those in the automotive sector, we offer a genuinely different luxury car experience. Feedback from customers so far has been incredibly positive."

Lisa, who joined MPA in February 2011, said Infiniti Centre Leeds would be offering a welcome to everyone on equal terms. "As a female, I know how daunting it can be to go into a male-dominated luxury car showroom, but the feeling here will be utterly different, just as it is at MPA's other Infiniti Centres in Stockport, Glasgow and Birmingham. We are having special junior versions of Infiniti furniture made so not even the children feel left out."

Extended test drives and a ban on service advisors are other ideas MPA is introducing. Lisa Ford said cars would be available for as long as someone wanted, while owners deal only with their personal technician – the person who actually works on their car – in a system that has been found to promote trust and avoid misunderstanding.

"And I appreciate how depressing it is when the customer knows more about the car than the sales staff. So we have made sure that can never be the case in one of our Infiniti Centres thanks to best-in-industry sales training. The staff even have regular quizzes to test their product knowledge."

Encompassing everything the luxury performance brand from Japan stands for in one elegant and highly contemporary new building, Infiniti Centre Leeds is situated in Domestic Road, close to the famous Elland Road home of Leeds FC and a mile from Junction 2 of the M621. Infiniti's motoring neighbours in the area include Bentley, Mercedes-Benz, and Porsche. The postcode is LS12 6HG.

"Our goal is to be the number one Infiniti Centre in Europe," said Centre Manager George Fitzpatrick, who joins Infiniti from Mercedes-Benz. "With the team, the location, the building and the Infiniti range I can't see any reason why we can't achieve that.

"The FX will do well here, and we have been getting a very positive reaction from fleet buyers to the M35h hybrid. Its CO2 emissions make it a very attractive tax proposition."

The Centre is well located not just for Leeds but also many of the major towns and cities of South, East, West and North Yorkshire such as Harrogate, York, Wakefield, Bradford and Doncaster. Like every Infiniti Centre it offers a free car pick-up and delivery service with a radius of 150 miles.

Alongside a full range of G, EX, FX and M ranges, the Centre will have on show the Championship-winning Red Bull Racing F1 car and an exhibition of digital art from Infiniti's worldwide design competition. A highlight of a VIP evening is a fashion show in partnership with Harvey Nichols.

"MPA is on its way to being a successful luxury car retailer in the UK and there could be no better partner to have than Infiniti," added Operations Director Lisa Ford. "It is a fiercely competitive market right now but we are at the beginning of a long and successful relationship with Infiniti. MPA is passionate about the brand and proud that we can meet the incredibly high standards Infiniti sets. We intend to take a pivotal role in establishing Infiniti in the UK."

Opening of the Leeds Centre comes as Infiniti's exposure reaches new levels across Europe on the back of its 2011 Formula One Championship-winning partnership with Red Bull Racing and a Global Ambassador by the name of Sebastian Vettel – newly crowned F1 World Champion driver for the second time. The company is also celebrating its first European television advertising campaign.