Feline film could inspire the prrrrrrrrrfect holiday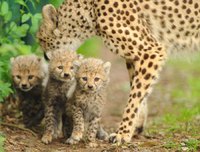 Big cat fans across the UK will be having a feline frenzy in the cinema this October with the release of African Cats this Friday, just two weeks after the re-release of Disney's The Lion King.
The blockbuster documentary featuring Samuel L Jackson as narrator, transports audiences in to the natural habitat of a family of lions and cheetahs, whilst following their daily quest for survival in the African wilderness.
Fans of the film will leave the cinema mesmerized by the breathtaking footage including vivid scenes of wildlife, rolling grasslands, an assortment of animals and colourful tribal culture, perfectly depicting Africa as a must-visit destination.

Children who watch the film will end up pawing at their parents to take them to see real life lions and cheetahs. The Zoo is a plausible option for this, but far better is the opportunity to take them to Africa and give them the opportunity to experience its remarkable wildlife first hand.
Families can swap Newquay Zoo for Namibia and head to this truly spectacular and diverse country full of amazing natural wonders and friendly locals on Inspired break's new Namibia Explorer. The trip will have them seeing and climbing the world's highest sand dunes at Sossusvlei, marvelling as the red sand changes colour in the early morning sun. The whole family will spend time with the Himba people in a traditional village and learn about their unique way of life that children would never have the chance to experience in the classroom. They will be amazed by the diverse wildlife of this incredible country as they go on safari in the spectacular Etosha National Park famous for herds of zebra, wildebeest, oryx, elephants and its floodlit waterholes where rhino come to drink. On the coast, the wildlife becomes even more diverse with flamingos, cape fur seals and dolphins. And finally, the reason for the trip in the first place, they will spend time at the famous Africat Foundation Conservation Centre where all the family will have the opportunity to get up close to cheetahs, lions and leopard.

Prices start from £1,499 per person for 13 days land only. Includes in-country transport, accommodation (Hotel, camping, chalets), meals (12 breakfasts, 11 lunches & 9 dinners), activities as per the itinerary and the services of a trip leader throughout the trip. For more information, visit inspiredbreaks.co.uk.