Top 5 healthy Christmas getaways from Health and Fitness Travel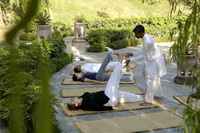 Can't face another unhealthy Christmas at home with squabbling in-laws, mistletoe and an overstuffed turkey? You won't have too as Health and Fitness Travel who provides tailor-made active and wellness holidays worldwide has come up with their top five healthy Christmas holidays, so you can have a change of scenery and start the New Year feeling rejuvenated.
Be the envy of your friends as you jet set to a tropical getaway during the festive season and escape another freezing winter. Get away from your television haven and onto on a healthy break by waking up to a glorious Christmas day sunrise with an ocean view. Enjoy delicious healthy cuisine, rejuvenating spa treatments, yoga, hiking or a beach boxing class.
Here are our top five healthy Christmas getaways. These holidays are designed to ensure you board the plane home not only relaxed but rejuvenated too and include all sorts of vitality-boosting activities, menus and treatments for the perfect Christmas holiday.
SHA Wellness Clinic
Spain
Experience a healthy Christmas break at the world's first macrobiotic wellness clinic. Enjoy a personalised health plan to improve your well-being and tempt your taste buds with a delicious specialised Christmas SHA diet at the Shamadi restaurant and Christmas healthy baking cooking lessons. Enjoy fitness activities such as yoga, hiking and dance classes to keep active and rejuvenate your body and mind with natural therapeutic treatments to indulge your senses.
Health and Fitness Travel offers 7 nights at SHA Wellness Clinic from £2,740pp including a tailored wellness programme, return flights and transfers.
Kamalaya
Thailand, Asia
Welcome to an all-inclusive healthy holiday in Thailand that can thoroughly diminish your pre-Christmas unhealthy habits. Cleanse your system and regain your energy and vitality with a tailored wellness programme to include detox, weight loss, fitness or yoga. Enjoy healthy and delicious cuisine, a lymphatic or vital massage to feel thoroughly energised and daily holistic classes to include; yoga, meditation and tai chi.
Health and Fitness Travel offers 7 nights at Kamalaya from £2,700pp including a tailored wellness programme, return flights and transfers.
Canyon Ranch
Arizona, US
Spend Christmas in the majestic Sonoran desert at this leading health and fitness retreat which offers the absolute best in exploration, renewal and relaxation. With over 40 fitness classes every day, including; yoga, dance and cardio workouts, you can choose to keep fighting fit throughout the festive season. Explore the meaning of wellness through lectures, healthy cooking demonstrations and consultations, and enjoy the outdoors as you start your day with a guided hike, biking excursion or tennis lesson.
Health and Fitness Travel offers a seven night all-inclusive package at Canyon Ranch from £3,700 per person and includes the Life Enhancement programme, accommodation, return flights from the UK and transfers.
Shanti Maurice Physique
Mauritius
Enjoy the perfect Christmas getaway at this stunning wellness retreat situated in between gleaming blue waters and stunning coral reefs. Enjoy a tailored physique wellness programme to tone muscles, cleanse out toxins, calm your mind and restore an overstressed body. A health and fitness consultation welcomes you, followed by tennis, yoga, meditation and lots of fabulous spa treatments. There is also a daily schedule of activities to include, yoga, Pilates, cooking classes, morning walks, water-sports, snorkelling, tennis, golf and numerous exercise classes.
Health and Fitness Travel offers 7 nights at Shanti Maurice from £2,770pp including a tailored wellness programme, return flights and transfers
ABAMA Rejuvenation
Tenerife
Wake up in paradise on Christmas day with a rejuvenating holiday beautifully graced by spectacular views of waterfalls, luscious lakes and volcanic landscapes. Enjoy exercising and socialising through unlimited group activities including; tennis, golf, exercise classes, Body Ballet, Yoga and personal training sessions. Relax your body and mind with an intensive body sculpting treatment or with a Tui Na therapy massage.
Health and Fitness Travel offers a 7 nights at Abama from £1,840pp including return flights, transfers, accommodation full board and the wellness programme.
For more information, visit healthandfitnesstravel.com.