Luxurious Green Eden accommodation is a hut above the rest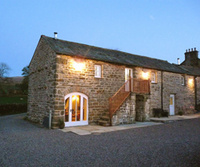 Three brand new holidaying accommodation concepts have been created to help celebrate Green Eden - a destination tourism campaign that places the spotlight on Eden in Cumbria - a land where the mystical meets the mountains and legend illuminates the lakes.
The owners of the sublime bed and breakfast establishment, A Corner of Eden, at Low Stennerskeugh, near Ravenstonedale are helping Green Eden achieve an ambition of making Eden Britain's first low-impact tourism destination based upon businesses promoting sustainability and visitor payback schemes. To dynamically contribute to Green Eden, they have created three brand new holidaying options for groups - Heaven and a Hut, A House and a Hut and Heaven, A House and a Hut.
These quirky concepts offer a group of family or friends numbering up to 16 the chance to indulge in an idyllic and sustainable holiday, without sacrificing any creature comforts, proving that 'green' and luxury can be great bed fellows!
Heaven and a Hut is brand new for 2011-12 staycationers and accommodates a group of 8 who can take over the divine Angel Barn at Ravenstonedale, as well as A Corner of Eden's new Shepherd's Hut. This allows 8 people to have a whole cottage and hut hire, wallowing in the sheer luxury of the cottage, or chilling out in style in the tranquil, simple-yet-stylish hut.
The 15th Century Angel Barn sleeps up to 6 and is an amazing eco self-catering holiday retreat, complete with three en-suite bedrooms decorated with lush wallpaper and eco paint and fitted with extravagantly comfy beds and stunning furniture.
Luxurious sofas re-upholstered in British wool and a 100% Cumbrian Herdwick wool carpet can almost lead the visitor to overlook the fact that the superbly-equipped kitchen is handmade from local wood, that the cottage has sustainable insulation in the form of sheep's wool and that while the heating comes from the ground, and the electricity from the sun, the water is taken from a fell-side spring. There's even a bed made from old cow stalls!
Adding the newly converted Shepherd's Hut to this, gives a group of eight complete private use of the two accommodation options. The hut started life as a 1930s railway cabin, but has been lovingly transformed into an exclusive hideaway for two. Its calming ambience makes it an idyllic bolthole for two adults who like getting together with friends, but also appreciate their own space.
It is furnished with a double bed, comfy chairs, dressing table, i-pod dock and wood-burning stove, as well as kettle. Crocs and comfy dressing gowns are provided to help guests cross the courtyard to Angel Barn, where the bathroom facilities await. Views of stunning sunsets, sightings of red squirrels and calming landscapes scattered with grazing sheep all come free of charge.
The House and a Hut option combines the Shepherd's Hut with the equally environmentally-concerned historic grade 2 listed farmhouse, which can be reserved as a whole house hire for eight people, who can then have exclusive hire of the lounge and dining room and help themselves to snacks from the well-provided-for Butler's Pantry, which carries homemade cakes and bread, local cheese, fruit and tea, coffee and juice. Drinks can be consumed from the Honesty Bar and candlelit, three-course dinner around the huge oak dining table is a bookable option.
By combining all accommodation and taking the Heaven, House and a Hut option, a group of 16 can enjoy away time together, using Angel Barn as the focus for breakfast and other meals and making the most of the great menu at the local pub.
Time in and around A Corner of Eden can be spent exploring the five-acres of land in which the stunning farmhouse is set, visiting local eateries, walking on Wildboar Fell, the Howgills or the Coast to Coast walk, fly fishing in the local rivers or horse trekking with neighbours Stonetrail Riding.
There is also mountain bike hire available and the option of booking a cooking course with Cook in Cumbria, also based in Ravenstonedale. With other activities, ranging from watercolour painting to nature watching and from picnicking to paragliding, there's every good reason to park up the car on arrival and then get around under one's own steam, using an alternative two-wheeled form of transport, or with a four-footed friend's help, thereafter.
Heaven and a Hut costs between £220-£300 per night (self-catering sleeping 8) minimum three-night weekend break. The House and a Hut option costs £540 per night (bed and breakfast sleeping 10) with a minimum two-night stay and the Heaven, a House and a Hut option £440-£600 (self-catering, sleeping 16) minimum three-night weekend break. The price of extra options, such as breakfast and three-course dinner can be provided and tailored to suit the group.
Visit Green Eden at any time of year and explore its breathtaking beauty in total tranquillity. More details about Green Eden and other members can be found at agreeneden.org Visit acornerofeden.co.uk or angelbarn.co.uk to discover more about its accommodation for all size of group from one to 16!