Lexus posts industry-leading improvement in emissions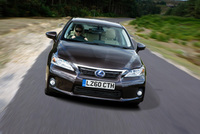 The launch of the CT 200h, the world's first full hybrid premium compact car, has helped Lexus achieve the sharpest fall in average CO2 emissions of any car manufacturer in the UK. The latest cleangreencars industry survey shows that, measured across its full model range, Lexus has an average emissions figure of 130.62g/km – 22.63 per cent lower than the figure recorded in 2010.

Not only does it make Lexus far and away the "cleanest" premium brand in terms of vehicle carbon emissions, it puts it in the top 10 of all volume car makers.

The significant improvement can be attributed to the advances Lexus has made with the CT 200h. Powered by the latest generation of Lexus Hybrid Drive, it produces 94g/km of CO2, the lowest figure for any car in its class. Thanks to this exceptional environmental efficiency, CT 200h qualifies for zero annual road tax and attracts low company car benefit in kind tax rates, plus a zero first-year Write Down Allowance for business fleet operators.

Richard Balshaw, Lexus Director, said: "Cleangreencars' independent data confirm that Lexus is delivering real-world results in bringing down emissions while maintaining the levels of luxury and refinement that are central to the brand.

"The advances we have made with CT 200h will be sustained by the introduction of more new full hybrid models, starting with the all-new GS next year, further reducing our emissions average."

Cleangreencars' CO2 industry analysis takes into account the sales figures as well as the emissions performance of each model. This means its results cannot be skewed by one particularly clean or polluting model, without that car having sold in appropriate numbers. More details can be found at cleangreencars.co.uk.