The magic of Alpine Italy Christmas markets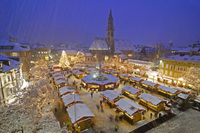 The magic of Christmas markets comes to Alpine Italy every year, the regions of Alto Adige (South Tyrol/Süd Tirol) and Trentino in particular offer a myriad of festive markets for the delight of all visitors.

Here are some of them:
Alto Adige (South Tyrol/ Süd Tirol)
Bolzano/Bozen: Alpine - Mediterranean Christmas
Savour the magic of Christmas in the traditional mercantile town of Bolzano, at the meeting point of north and south, where the cultures and traditions of central Europe and the Mediterranean meld. Bright lights, scents and sounds steeped in tradition pervade the medieval centre, with its romantic arcaded streets and picturesque lanes emanating their nostalgic atmosphere. Emotions are heightened by the backdrop of the Rosengarten Dolomites!
Venue Piazza Walther/Waltherplatz
Open from 25.11. to 23.12.2011
Merano: Sensual Delights and Relaxation
Relish contemplative moments while rejuvenating body and soul. Discover traditional handicrafts at the Christmas market and savour local sweetmeats. A wealth of attractions for children! A festival for the senses and leisure, enveloped in the magical pre-Christmas atmosphere of Merano.
Venue Passeggiata Lungo Passirio/Passerpromenade
Open from Nov 25, 2011 to Jan 7, 2012
Closed: 25th December all day
Bressanone/Brixen: Art and history
The venerable Cathedral with its 800 year-old Gothic cloister lends a unique aura to the Christmas market, taking place in the Cathedral square. You will be fascinated by the bustle of activity and the myriad colours, seasonal aromas and music, or by the crib exhibition in the Episcopal Palace (Hofburg) emanating tradition and history.
Venue Piazza Duomo/Domplatz (Cathedral Square)
Open from Nov 25, 2011 to Jan 6, 2012
25th December and 1st January: closed
Brunico/Bruneck: handicrafts and tradition
Discover traditional handicrafts and seductive delicacies ensconced between the four main gates of the medieval town walls. Should you wish to combine a visit to the Christmas market with winter sports, then the superb slopes in the Kron-Platz ski resort are just outside the town.
Venue Beside the Moat (Via Bastioni/Am Graben) and Town Hall Square (Nuovo Piazza Municipio/Neuer Rathausplatz)
Open from Nov 25, 2011 to Jan 6, 2012
25th Dec: closed
Vipiteno/Sterzing: Living Traditions
The impressive "Zwölfer-Turm" tower built in 1486 watches over the Christmas market in this medieval mining town, itself at an altitude of almost 1,000 metres. It also features a special exhibition related to the history of mining in the nearby high mountains. The atmosphere is enhanced by the quaint town buildings with their characteristic bay windows.
Venue Piazza città/Stadtplatz (Town Square)
Opening times
Open from Nov 25, 2011 to Jan 06, 2012
25th December: closed
For other Christmas Markets, visit suedtirol.info.