Volkswagen Touareg takes on key role in the Dakar Rally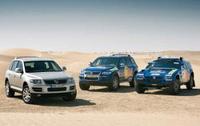 The new Volkswagen Touareg is set to face its toughest test yet as it prepares to act as a support vehicle to the bespoke Race Touareg 2 on the Dakar Rally. The event has run since 1979 and, for 2007, totals 4,309 km of stages taking in the most inhospitable terrain to push the tolerances of the vehicles, drivers and the teams.

Four examples of the Race Touareg 2 will set off from Lisbon on January 6 supported by 12 new Touaregs carrying equipment and personnel. Despite the 2007 rally support vehicles taking in tortuous off-road conditions, high temperatures and a total of 7,915 km across six countries as they follow the route, the new Touareg – which goes on sale in the UK in March – carries relatively few modifications. These include long-range fuel tanks, sand deflectors, a roll cage, six-point harnesses and a navigation system adapted for off-road applications. The 2.5-litre V6 TDI engine mated to a six-speed automatic gearbox and 4XMotion four-wheel drive transmission all remain scrupulously standard.

By comparison the Race Touareg 2's set to be driven by Carlos Sainz, Ari Vatanen, Giniel de Villiers and Mark Miller employ more radical changes aimed at lending the team a competitive edge.

Clothing the unique steel spaceframe chassis of the Race Touareg 2 are weight saving carbon fibre panels onto which are bolted long-travel damper units and a safety roll cage designed to survive the rigours of the Dakar rally. Powering the Race Touareg 2 is an evolution of the five-cylinder 2.5-litre TDI engine fitted to the production Touareg. For its entry into rallying the engine's power is raised to

285 PS channelled through a six-speed sequential race gearbox and a tough three-plate ceramic clutch.

The 16-day rally will test the versatility and mechanical strength of both the race and production Touaregs as they traverse sand, mud and extreme off-road conditions against the clock and whilst combating the oppressive heat.

The rally acts as the final test for the Touareg before sales start here on March 1. Fitted with a fresh new look to the nose and rear plus improvements to the interior and new dynamic and comfort orientated upgrades, the new Touareg builds on the success of the existing model. Since its launch in 2003 over 10,500 Touaregs have been sold in the UK with 2006 proving a record year for Volkswagen's luxury off-roader.