Gold Coast to host first International Rules series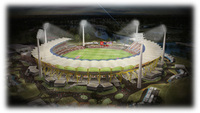 Australia's Gold Coast will be hosting its first International Rules series football match at the Metricon Stadium on 4th November 2011.
The $126 million 25,000-seat AFL and sports stadium at Carrara is home to the national sporting team, Gold Coast Suns in the Australian Football League (AFL).
International Rules is a match involving the fusion of two styles from AFL and Gaelic football and the match is expected to draw crowds of up to 25,000 to the match. Phil Reeves, Queensland Sports Minister, made the announcement with Australian Football League (AFL) players and representatives from the Gold Coast Suns.
Mr Reeves said, 'It is great news for Gold Coast Tourism with both interstate and international visitors travelling to the match and supporting local businesses'.
Martin Winter, CEO of Gold Coast Tourism said the match would provide a distinctive boost for the local industry.
Mr Winter said, 'The Gold Coast has a proven track record in hosting major events and generating great spectator attendance, these unique events will be another example of why the Gold Coast is famous for fun'.
The Gold Coast's is pleased to play host on an international level and showcase its first-class sporting venues for both visitors and locals to enjoy.
For more information, visit VisitGoldCoast.com.