Volvo Trucks launches new game for smartphones and tablets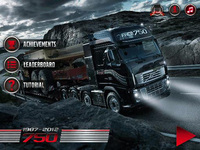 You're driving a brand new Volvo FH16 with 750 hp.... Suddenly an obstacle appears in the middle the road. Time is scarce. What do you do? In FH16 750, Volvo Trucks' new game for smartphones and tablets, fast reactions are everything.

"The game will be released to coincide with the 25th anniversary of our flagship truck. As part of the celebrations, we're offering some exciting entertainment for all truck enthusiasts," says Niclas Hermansson, Digital Marketing Strategist at Volvo Trucks.

The object of the game is to quickly eliminate obstacles that appear in front of the truck by means of various finger movements: tapping, linear dragging or circular dragging. If you're quick and choose the right gestures, you'll win enough points to proceed to the next level.

"It's easy to learn, but hard to master. If you're good, you can get onto the high-score lists and boast about your results on Facebook or Twitter. There is also a contest on Worldtrucker, our online truck community, where weekly prizes are awarded," adds Hermansson.

The game can be downloaded free via the Apple App Store or Android Market. It features eight tracks with rising levels of difficulty and also offers some facts about Volvo Trucks' flagship FH16-750, which was released to the market in September.

This is the second time that Volvo Trucks uses a digital game in its marketing. The game website 'strongesttruck.com' was built to mark the launch of the Volvo FH16-700 back in 2009. It was a huge success and continues to attract visitors, in so far as it has now been played 15 million times to date.

"To my knowledge, we are the only truck company in the world to launch such advanced games. This is a fun and exciting way to publicise our products and helps us reach a much wider public than we normally do," comments Hermansson.

Watch the game trailer at youtube.com/watch?v=m_YssUFHT-g or download the game via Volvo Trucks' game site – loadingramp.volvotrucks.com/ – or directly from iTunes.

The game requires iPhone 4/4S or iPad 2 or Android 2.3 phones or tablets with 480x800 screen resolution or higher.

At worldtrucker.com - a community for truck enthusiasts - there is a contest where the players with the best results win weekly prizes. Everyone can take part.