Volkswagen Touareg BlueTDI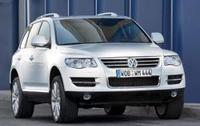 Volkswagen Touareg BlueTDI forms part of Volkswagen's BlueMotion park exhibit at the Geneva Motor Show – highlighting current and future drivetrain and fuel technologies being developed by Volkswagen.

Key Facts

New Selective Catalytic Reduction system (SCR) reduces nitrogen oxide emissions by up to 90 per cent, making it one of the cleanest diesel engines on the market.

Mated to the 3.0-litre V6 TDI 225 PS diesel engine.

The Touareg SCR meets the stringent emission limits set by several American states including California.

Euro IV standards dictate a NOx limit of 0.25 g/km – the Touareg equipped with SCR meets the 0.043 g/km US limit.

The system works to convert selectively nitrogen oxide into harmless nitrogen and water.
This conversion is made possible by spraying a film of AdBlue urea solution stored in an auxiliary tank into the exhaust stream before it reaches the new catalytic converter. A reaction then occurs within the exhaust system to split the nitrogen oxide apart, the result being nitrogen and water. The supply of AdBlue stored within the vehicle is such that it should not need to be replenished until the vehicle visits a retailer to be serviced.

The SCR system works in conjunction with a diesel particulate filter and a conventional catalytic converter to reduce emissions further.

New sensors within the engine's combustion chamber monitor performance and adapt its characteristics to allow it to run more efficiently.

Although SCR is unique to the Touareg, a NOx trap will be fitted to the Jetta in the North American market from next year.

Timing

Launched initially in North America in 2008.
No current plans for introduction to Europe.