Vauxhall's all-new 155mph Astra VXR revealed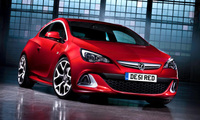 Hot on the heels of the recently launched GTC, these are the first official pics of the new Astra VXR, which goes on sale next year and is set to become one of the most powerful cars in its class and the fastest production Astra in Vauxhall's history.

Based on the GTC's platform and powered by a 2.0-litre turbocharged direct injection engine, the Astra VXR produces 280hp of power and a mighty 400Nm of torque, enough for it to achieve a top speed of 155mph.

But while the Astra VXR is based on the new GTC, it has benefited from a raft of bespoke chassis modifications, transforming it into a focused, high-performance coupe. Setting it apart from all other current Astras is a specially developed mechanical limited slip differential, which works on the front wheels. In conjunction with the GTC's sophisticated HiPerStrut (High Performance Strut), the LSD provides the Astra VXR with exceptional lateral grip and traction through bends.

Further changes to the chassis include brakes developed by competition supplier, Brembo, and standard fitment of Vauxhall's fully adaptive FlexRide system. In the Astra VXR, FlexRide features not only a Sport button, but a VXR button, offering drivers the choice of two, more focused stages of damper, throttle and steering control.

Much of the chassis sign-off was done at the Northern Loop (Nordschleife) of the Nürburgring, and was overseen by Le Mans 24-hour race winner, "Smokin' Jo" Winkelhock. "We have devised a great package that will convince even the most experienced and enthusiastic drivers – and not just on the Nürburgring!" said Winkelhock.

Visual identifiers for the Astra GTC comprise a set of specially sculpted front and rear bumpers, side skirts, an aerodynamic roof spoiler and two exhaust tail pipes in a trapeze shape. Inside, the VXR's cabin gets bespoke performance seats with embossed logos in the backs, a flat-bottomed VXR steering wheel and upgraded instruments.

The UK is by far the Astra VXR's biggest market in Europe, so sales interest in the car is set to be strong. More details, including pricing and on-sale dates, will be revealed early next year.