How Mazda's Digital Servicing Record adds value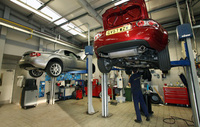 Cars with full service histories are worth more and are easier to sell, according to new research carried out by ICM Research– which shows that a full service history on a car could increase its value by 26 percent.

Mazda was the very first car company to have a fully operational digital service record (DSR) across the range, adding even more value to its cars.

"DSR replaces the traditional service record book which sits in the glovebox for 364 days of the year, emerging once every 12 months to be stamped when the car has its annual service," explained David Wilson-Green, Aftersales Director at Mazda UK.

The research showed that more than one-in-three buyers (34 percent) would not buy a car without a full service history and that greater value is placed on cars with a full service history from a franchised dealer rather than an independent dealer. In fact, only 32 percent valued the car the same if serviced by an independent garage, suggesting that 68 percent valued the car greater if it has a full service history from a franchised dealer. This means that using a franchised dealer for servicing will add value to a car when it comes to selling it. With the average used car selling for £5,500, the findings indicate that a full service record could be worth up to £1,500.

Using a franchised dealer brings other benefits for customers. Genuine parts come with a two-year warranty while fully-trained technicians will not only keep Mazda cars running at peak efficiency but also have access to important vehicle software updates.

"DSR is much more secure than the traditional paper service record," said Wilson-Green who has overall responsibility for DSR on behalf of Mazda's 151-strong dealer network.

"Service histories can be falsified; but with an electronic service record it is very difficult to be fraudulent," highlighted Wilson-Green.

Mazda UK sends out thousands of service reminders to customers every month. In the peak months of March and September, up to 20,700 can be sent out by post or email; reminders are also sent to those who miss a service.

Not only does this help maintain the relationship between the customer and the dealership, it also allows dealers to know a car's genuine history, especially if it's a Mazda they don't know.

There are other benefits to DSR, explained Wilson-Green:
It allows dealers to instantly validate warranty repairs
Securely logs a vehicle's mileage
DSR has the ability to record additional work that has been carried out, including MOTs, winter and summer checks, air conditioning inspections and even if the vehicle has been fitted with a new odometer.

Behind DSR lies a whole reporting suite that lets dealers know which customers are due into the dealership, the customers that have visited recently, those that have missed a service and who has been taken off the database because they no longer own a Mazda.

DSR was launched for all new Mazda vehicles in 2006, but any Mazda built since 1998 can be added retrospectively to the database. This means that Mazda has a database of more than 274,000 cars, with one 1999 Mazda Premacy customer, who has already covered more than 181,000 miles, having the DSR fitted to ensure servicing is recorded correctly and securely into the future.