Spend less on city breaks this Christmas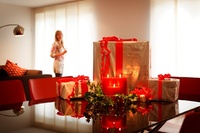 SACO, the worldwide serviced apartment network, is offering travellers the chance to save up to 50 per cent on stays in some of the UK's most popular cities this Christmas and New Year.
From mid December until the New Year guests can enjoy a festive break for less, with one bedroom apartments in Bath available for £99 per night down from £145 and two bedroom apartments available in Jersey for £102 per night down from £208, as well as up to 50 per cent off in 18 other locations across the UK.
Apartments in London start from only £125 per stay saving 35 per cent.
Take advantage of this opportunity to stay in a city centre location for a fantastic Christmas break; experience regency Christmas in Bath, enjoy pre-Christmas shopping in Manchester and Birmingham. Relish the festive experience in London's, Winter Wonderland at Hyde Park, ice skate outdoors or watch the Christmas lights switch on at Oxford Street.
Choose from a selection of fantastic 23 UK destinations including Bath, Bristol, Birmingham, Cardiff, Glasgow, Jersey, Manchester, Nottingham, London and many more.
Stay with SACO and enjoy all the space and freedom you need, with the flexibility to come and go as you please.
For more information, visit christmas.sacoapartments.co.uk.