Go go techno gadgets for Christmas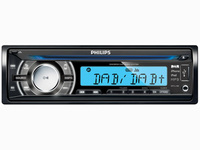 If you're crazy about having the latest techno gadgets and gizmos for your car, look no further. Halfords has an extensive range of in-car products from Sat Navs, audio units, DVD players and the very latest in DAB with many exclusives available online and in-store.
Listen to your favourite beats with the Philips CEM 3000B DAB iPod / iPhone CD/MP3 AM/FM tuner exclusive to Halfords and priced at £159.99. It's one of the first of a new generation of big brand Digital Radio head units that has been designed to give more station choice, great sound and more information that comes with DAB that's not available on the factory stereo. With built-in 50W x 4 amplifier for excellent sound quality, this nifty gadget can play music, control and charge your iPhone/iPod via USB and it also has a CD player and MP3 link for music playback. Plus Halfords can fit it for as little as £24.99.
Want to get your hands on the world's thinnest sat nav at only 8.7mm? The Garmin Nuvi 3710 Sat Nav with UK & ROI mapping is priced at £199.99. The new multi-touch display allows users to quickly make map screen adjustments such as zoom-in and zoom-out by 'pinching' your fingers and rotating the map 360 degrees for comfortable pedestrian navigation. With wireless technology it syncs with compatible mobile phones for safer hands-free calling through the sat nav's secondary speaker located on the powered mount, offering high sound quality. It features 'Garmin PhotoReal Junction View', and 'Lane Assistance' allowing you to navigate with confidence as the Nüvi directs you to the preferred lane with realistic images of upcoming junctions. Plus the 'nüRoute' technology with 'trafficTrends' and 'myTrends' takes into account not only where you are, but the time of day and the way you drive to help plan your route.
With an extensive range of DVD players in-store and online, there is something to suit all budgets. Starting from as little as £49.99, the V-Zon 7011 - 7" Portable DVD Player exclusive to Halfords has a 7" screen that combines a compact design with a wide range of features, making it perfect for use on the go from its on-board rechargeable battery, or at home. A pair of integrated stereo speakers provides audio with built-in Dolby Digital decoding, while a headphone jack lets you fully enjoy your entertainment discreetly.
Part of the extensive range includes the Philips PD7002/05 7" Single Portable DVD player. Priced at £99.99 you can enjoy your movies anytime, anywhere! This portable DVD player featuring a 7" LCD display lets you indulge in the pleasure of enjoying DVD/DivX movies, MP3-CD/CD music and JPEG photos on the go. It features a 16:9 screen and built-in stereo speakers. It also has up to 2-hour playback with rechargeable built-in battery and a mounting strap so you can put it on the back of a headrest.
Halfords offers a We Fit service in store. We can fit your new car audio or DVD unit; hands-free car kit; safety camera detector; speakers or parking sensor; help connect your iPod or MP3 player to your audio unit and offer the best advice on the right in-car technology for your vehicle.
For more information, visit Halfords.com.