New DVD navigation system now available on Touran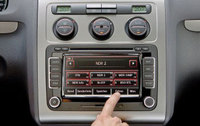 Customers are now able to order a new DVD navigation system with touch screen technology on Touran models, giving them quicker route calculations, clearer map illustrations and easier programming thanks to new controls.

For the first time, the new unit can be operated easily and precisely using a touch screen. The additional control rows (hard and soft keys) using the piano key principle have been kept and enhance the user-friendly concept. The new system calculates routes in record time using a high performance 750 MIPS (million instructions per seconds) processor and is capable of displaying multi-coloured maps in 16:9 format.

An integrated 30 GB hard drive is used to store navigation data and can also be used to save audio files. The high-resolution display on the electronic navigator displays maps, images and videos in much higher quality than previously possible. Maps can be displayed in a bird's eye view as well as the familiar arrow icons in split-screen mode.

An integrated DVD drive allows Touran owners to play common CD formats like MP3 and WMA (Windows Media Audio) as well as play DVDs (when the vehicle is stationary). A Secure Digital card slot on the front of the unit allows access to various "AUDIO" data formats. The modern radio module with four 20 Watt speakers and excellent sound and reception completes the system.

The new DVD navigation/radio with touch screen costs £1,175; to upgrade the system with the addition of an armrest-mounted six-disc CD autochanger costs £1,445.