Buy a new home now and save more at Willow Gardens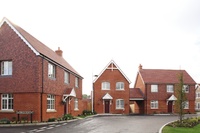 Aspiring homeowners should hurry if they want to save almost £60,000 off the initial price of their first home.
HomeBuy Direct is still available on selected Redrow homes at Willow Gardens, in Hailsham, enabling eligible customers to take out an equity loan for up to 30% of the purchase price. But with funding limited, those who want to take advantage of the valuable help should act fast to avoid disappointment.
Lesley Stringer, sales director for Redrow Homes (Eastern), explains: "Time really is of the essence for those who want to take advantage of HomeBuy Direct. I would urge anyone who's considering buying their first home to contact us without delay as restrictions on funding mean that customers must complete the purchase of their new home by the end of December."
The valuable help is available at Willow Gardens. With the offer of an equity loan for up to 30% of the purchase price, jointly funded by Redrow and the Homes and Communities Agency, certain groups of purchasers can initially save almost a third off the price of a brand new home. The loan is interest-free for the first five years and can be repaid when the customer has more funds available or they come to resell.
For example, a three-bedroom house could be snapped up for an initial outlay of £139,965 – a saving of almost £60,000 off the full market value of £199,950.
Thanks to HomeBuy Direct those who are caught in the rental trap or living with parents while they save for a deposit to buy a home of their own, could find they are able to move sooner than they expected as the valuable help reduces the overall size of the mortgage required and, more importantly, the improved loan-to-value ratio.
"HomeBuy Direct could also be the difference between buying a run-down, older property that's in need of lots of work and buying a stylish new house that boasts a well-equipped kitchen with integrated top brand name appliances and enjoys sleek modern bathrooms with quality fixtures and fittings," Lesley said.
It's not just first time buyers who can boost their buying power with HomeBuy Direct, the scheme is also available to those who are starting over after a change of circumstances such as a relationship break-up.
To be eligible for the help buyers must have an annual household income of less than £60,000.
"Buying a home is a big commitment and it may seem daunting, particularly if you're a first time buyer. Our friendly, experienced sales team and HomeBuy agent will guide customers through the application process and make everything as simple and straight-forward as possible," Lesley added.
Located on the A22, just eight miles from Eastbourne, about 25 miles from Royal Tunbridge Wells and a similar distance from Brighton, Willow Gardens is well placed as a base for commuters, but has plenty of amenities nearby in Hailsham itself.
For further information, visit redrow.co.uk.