Christmas shopping in Marrakech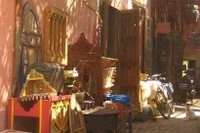 For some winter sun and great Christmas shopping, Marrakech is the place to be. Just 3.5 hours from London, you are immediately plunged into the magical realm of a bygone age; a culture so different from ours it really does feel like you have stepped back in time to a biblical age. An enchanted place full of snake charmers and soothsayers, acrobats and water-sellers; so full of colour, textures, smells and intrigue that all you can do is catch your breath and stare in wonder.
The old medina and souks are a labyrinth of winding alleys interspersed with squares devoted to specific crafts; wool dying, brass and copper beating, apothecary stalls, cosmetics, herbs, jewellers, leather workers, carpenters, sieve makers, perfumes, spices, slippers and lanterns – an endless array for unique Christmas presents and boundless retail therapy.
Accommodation in Marrakech is just as varied, from luxury Riads to Boutique hotels, Maison d'hotes to conventional hotels there is something to suit everyone. For a short break we highly recommend staying in a Marrakech Riad in the heart of the Medina, within walking distance of the main d'Jemaa el Fna square and souks. An oasis of calm and tranquillity hidden amongst the madness of the city, staying in a Riad gives a true flavour of city life.
The high Atlas Mountains are a mere hour away so great for a day trip out of the city. Snow permitting there are also skiing opportunities Oukaimaden just 1.5 hours from Marrakech so perfect for a day of exhilarating winter activity.
The Riad Les Yeux Bleus is in the Medina, about 15 minute walk from the main square and souks. Beautifully traditional in style, it has 8 bedrooms, swimming pool and lovely roof terraces with views over the city and beyond to the snow-capped peaks of the High Atlas Mountains.
A four night stay at the gorgeous Riad Les Yeux Bleus including transfers and breakfast is £320.00 per person based on two sharing a room; Easyjet flights during November and December from Gatwick are currently priced FROM £89.00 per person including 1 piece of hold luggage; essential for the all the shopping that will be done!
For all bookings, visit completemorocco.com.