Historic Rally Car Register celebrates exciting anniversaries in 2012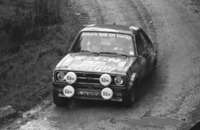 The Historic Rally Car Register is celebrating two exciting anniversaries when it runs its much loved Open Day at the Heritage Motor Centre on Saturday 14 January 2012. The Open Day is one of the most exciting gatherings for all those interested in historic rallying, one of the fastest growing motorsports in the UK. The 2012 event will welcome the 1978 RAC Rally winning Escort of Hannu Mikkola and Arne Hertz as the star of the show.
2012 marks 80 years since the first RAC Rally held in 1932 as a reliability trial with all types of tests including a slow driving test. In 1960 the Rally moved onto the private forest roads and grew into one of the World's best rallies and the biggest spectator event in Britain. Hundreds of thousands of fans stood in the forests to watch rallying household names of the 70's/80's including Roger Clark, Hannu Mikkola, Tony Pond, Colin McRae and Richard Burns battle for the World Rally crown.
The second of the anniversaries marks 30 years since the event that launched Historic Rallying in this country. The Lombard Golden Fifty took place in 1982 to celebrate 50 years of the RAC Rally and launched a whole new area of motorsport.
Visitors will be able to see a number of cars on display outdoors on the Western Arena plus have the opportunity of meeting organisers, club shop & specialist suppliers and organising clubs. Stands in the Main HRCR Hall will highlight many of today's historic rallies.
John Bishop, Car Clubs & Groups Co-ordinator at the Heritage Motor Centre stated "We're delighted to be hosting the HRCR Open Day which looks set to be another exciting and nostalgic event for rally enthusiasts. If you are interested in historic rallying then Gaydon is the place to be on Saturday 14 January!"
Entry to the HRCR Open Day is free of charge and attendees can visit the Museum on the day for the discounted rate of £6 per person. The Open Day is open from 09:30 - 16:00 with the Museum open from 10:00 - 17:00. To find out more information visit the website at heritage-motor-centre.co.uk or the HRCR website at hrcr.co.uk.