Gold Coast wins bid to host 2018 Commonwealth Games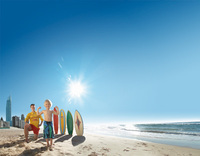 Australia's Gold Coast has won the bid to host the 2018 Commonwealth Games, which promises to be the largest international event to be held in Australia over the next decade.

The Gold Coast is the sixth largest region in Australia and is one of the country's most popular holiday destinations. It is already famous for hosting some of the nation's largest and most successful major events such as the Gold Coast HSBC Sevens Fever Pitch rugby tournament which is to take place later this month.

The success of the Commonwealth Games bid has instigated what is set to be an unparalleled period of new investment and development in the region. The Queensland Government has also announced a $500 million AUS dollar direct investment into venues and transport infrastructure.

Martin Winter, CEO of Gold Coast Tourism, said there would be plenty to look forward to between now and 2018: 'We believe more than 120,000 extra tourists will visit the Gold Coast for the 2018 Commonwealth Games with around a 50% split between international and domestic visitors, so the opportunity for our AUS $4.5 billion tourism industry is exceptional' he said.

Anna Bligh, Queensland Premier, said the Games could generate up to $2 billion AUS dollars in economic development with up to 30,000 jobs to be created between 2015 and 2020.

'Congratulations to the Gold Coast, to Queensland and Australia - we did it!' said Ms Bligh.

The Gold Coast is pleased to play host on an international level and showcase its first-class sporting venues for both visitors and locals to enjoy and the region looks forward to welcoming more visitors for the Commonwealth Games in 2018.
For more information, visit VisitGoldCoast.com.