Superyacht stampede at Gibraltar's Ocean Village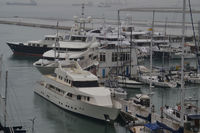 As proof that Gibraltar's Ocean Village is a superyacht magnet, this week a sextet of heavyweight vessels cruised in all requiring berths. Thanks to 2010's Premier Berth expansion programme, there was space for all as well as a fantastic photo opportunity for passersby.
Ros Astengo, Business and Development Manager at the Ocean Village Pier Office, comments, " We had 33 metre Suakin, 43 metre Calliope, 55 metre Turquoise, 56.5 metre Hampshire, 60 metre Sea Pearl and mammoth 61.5 metre Solemar all at anchor in our marina this week. Literally tens of millions of pounds worth of luxury. Ocean Village continues to be their marina of choice as Gibraltar's fuel is tax-free, up to 40% cheaper than neighbouring Spain, our berth rates start from £3.50 per metre per day for boats of this size and of course it makes strategic sense. Geographically, Gibraltar is at the confluence of the Mediterranean and the Atlantic – a familiar British stop off for the megayacht 'milk run'. Ocean Village has no competition."
Off the water, Ocean Village has plenty to entertain and occupy visiting crews. The Marina offers retail therapy with fashion boutiques and liquor stores (and an all-important chandlery), hospitality heaven with everything from Irish pubs to authentic Indian cuisine as well as nightclubs and Gibraltar's only combined casino, bingo club and sports betting zone. A Health Club is also on-hand for maintaining that body beautiful.
As a recent innovation, the retailers and restaurants in Ocean Village marina have launched a special "Premier Card" offering discounts in the various waterside establishments. Marina users will get their own day version of the Premier Card which will entitle them to all of the standard advantages alongside additional discounts from the Hire-U-Shop and Sheppard's Chandlery.
For further information on booking a berth at Ocean Village marina or indeed obtaining an Ocean Village Premier Card, visit oceanvillage.gi.