Green living has grown up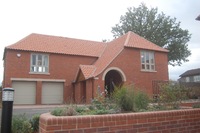 If eco homes bring to mind whimsical 'hobbit houses' decorated with raffia rugs and wind chimes, then let Oak Tree Court in Nottinghamshire open your eyes to a new and sophisticated greener lifestyle.

This stylish development of just nine luxury new homes combines elegant interiors with state-of-the-art environmental innovations, and occupies a picturesque greenbelt setting on the edge of sought-after Tollerton village where selected plots come with up to an acre of woodland.

Discreet energy-saving heating and filtered-air ventilation set the properties apart from typical new homes for sale in Nottingham, and demonstrate that eco builds have come of age.

In each home at Oak Tree court, a virtually silent air source heat pump acts as a mini power station so that around three-quarters of heating and hot water can be provided for free. The pump draws heat energy from outside air like 'a refrigerator in reverse' and continues to operate in outside temperatures as low as -20C.

This cost-efficient system is teamed with sumptuous underfloor heating in every room, including utilities and cloakrooms. Unlike traditional 'hot water' radiators, the underfloor system uses warm water, reducing energy consumption dramatically. In fact, a home at Oak Tree Court can offer energy savings of up to 85 per cent compared with conventional heating systems.

While the central heating system is a hidden gem within the Oak Tree Court design, the inclusion of log-burning stoves is a delightful feature. The carbon-neutral stoves are designed to burn wood so efficiently that they emit no more carbon dioxide than wood left to rot naturally.

Building regulations demand that all new homes are virtually airtight in order to reduce heat-loss, but this can lead to a stuffy and stale living environment. Oak Tree Court homes boast advanced ventilation systems that extract stale air and moisture, and circulate fresh air throughout each property.

By passing the stale air through a heat exchanger before it is exhausted out into the atmosphere, heat energy is extracted from it. As fresh air is drawn in from outside, it passes over the heat exchanger and is warmed for free. This refreshing approach to property design replaces air within the whole house with clean, filtered and temperature-controlled air every two hours, reducing allergens in the home and providing a healthier living environment.

Water-saving is also part of the design at Oak Tree Court and each property is finished with aesthetic aerator taps that emit water as fine droplets, maintaining its pressure while reducing water consumption and splashing. Whereas typical water-use per person is 150 litres a day, an Oak Tree Court resident can expect to use just 100 litres without having to change their habits or lifestyle.

Most energy-saving technologies are integrated into the construction of each Oak Tree Court home, but as solar panels are an external and visible installation, purchasers are given the choice of whether to add these to their individual properties as an upgrade.

To ensure they are as cost-effective and efficient as possible, and to meet the Code for Sustainable Homes Level 3 criteria, properties at Oak Tree Court has been laid out so that roof slopes predominantly enjoy a south-facing aspect, making them ideal for generating electricity that homeowners can sell back to energy suppliers through a feed-in tariff.

Roy Pickavance, an expert consultant for the construction industry and managing director of Chebsey Estates, has worked closely with architects and suppliers to ensure the eco technologies at Oak Tree Court are among the best available to new home-buyers.

He said: "Although relatively new in the UK, home ventilation technology has been used in Scandinavia and the Netherlands for many years, and at Oak Tree Court we have worked with the long-established and well-respected Dutch climate solutions company, Itho BV, and the air source heat pumps are manufactured by the highly regarded Danish firm Danfoss.

"These 'fit and forget' technologies are ideal for busy people who care about their carbon footprint, and by including them in our new build homes we have future-proofed them against the hassle of sourcing the best systems available and the disruption of having them installed retrospectively.

"The results can now be seen in the brand new showhome at Oak Tree Court."

Prices for the five-bedroom houses at Oak Tree Court start from £559, 950.

Oak Tree Court is a development by Chebsey Estates. Further details are available at oak-tree-court.co.uk.
It pays to go solar before 12th December

Those acting now to reserve homes at Oak Tree Court can benefit from the higher-rate solar panel feed-in tariffs and earn 43p per kilowatt-hour.

By securing selected properties at the development in November, the new owners can have the energy-generating panels fitted on their homes before the 12th December deadline to claim the higher rate.

A current Department of Energy and Climate Change consultation looks set to switch the tariff to 21p per kilowatt-hour for panels fitted after 12th December.