Halfords launches latest PURE digital radio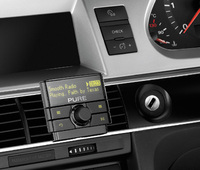 Listen to your top tunes and follow your favourite sports action with the new in-car PURE Highway 300Di digital radio adaptor.
It's exclusively available at Halfords and priced £179.99. For a limited period, the PURE is on launch promotion so customers will recieve free installation, set up and demonstration, worth £24.99.
PURE is the world's leading manufacturer and number one supplier of digital radios in Europe. Also available from Halfords priced £79.99, is PURE's original Highway in-car digital radio adapter. It currently accounts for over 80% of all in-car digital radio aftermarket solutions.
Paul Smith, PURE's general manager, says: "We have sold almost four million digital radios and we know that our customers love them. Highway 300Di will let them access the same great content and user experience in-car that they've come to know and love in their home. We are delighted that the country's leading car audio retailer will be making Highway 300Di available to its customers; this is an important step forward for the sales of in-car digital radio adapters and will be a significant catalyst in helping digital radio switchover."
The Highway 300Di has been designed to offer customers an elegant, fully fitted solution with improved reception, which doesn't clutter the car with cables and doesn't require any holes to be drilled. It comes with a compact, interface box, which is fitted discreetly in a suitable location for the vehicle such as behind the dashboard or in the glovebox; an attractive, removable, controller unit; an innovative, active, glass mount aerial for the best possible reception, a 3.5mm line-in cable and a USB cable for an iPod, iPhone or iPad, which also charges the connected device.
The compact, controller unit is mounted on the dash and comes with an OLED display, which is readable from any angle. Highway 300Di is iPhone, iPod and iPad compliant and enables full control of these devices from the controller unit. Music stored on an iPod, iPhone or iPad can be navigated from the controller by artist, album and track. The controller also comes with easily accessible favourites, backlit buttons and the ability to pause and rewind live digital radio and any other audio source.
SaysX[VH1] Halfords Digital Expert, Nik Dix said: "There is now real momentum in the transition to digital radio and the launch of the new fully fitted PURE solution from Halfords is a vital step in ensuring that drivers can take advantage of all the benefits."