New Fiat 500 makes an onstage appearance with Jennifer Lopez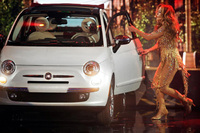 The new Fiat 500 performed alongside Jennifer Lopez during her performance of Papi, at the recent 2011 American Music Awards (AMAs), in Los Angeles.

Earlier this year the Fiat brand announced its collaboration with Jennifer Lopez, which included placement of the new Fiat 500C in her new music video, Papi as well as in a 30-second trailer of the video. The singer also appears in two additional commercials for the brand broadcast in the USA, My World and Elegance, which feature the Fiat 500C and the Fiat 500byGucci models.

"The Fiat brand is honoured to share the stage with Jennifer Lopez at the 2011 American Music Awards. Her drive and determination is the common thread that is shared with the brand and our philosophy of Life is Best When Driven", says Olivier Francois, CEO of the Fiat brand.

"This appearance allows us to continue to expose the Fiat 500 to a wide demographic. These past few days have been momentous for Fiat as we have recently revealed the new Abarth 500 at the 2011 Los Angeles Auto Show."

Jennifer Lopez's performance at the 2011 American Music Awards can be viewed on the Fiat brand USA Facebook page at facebook.com/FIATUSA and in many posts on YouTube. Both commercials can be viewed at facebook.com/FIATUSA and youtube.com/FIATUSA.

Reminiscent of the original Cinquecento, the Fiat 500 and Fiat 500C build on the vehicle's global popularity. Since its initial launch in 2007, the new Fiat 500 has been sold in more than 80 countries around the world.