Glamping made easy in Pembrokeshire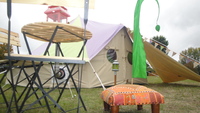 Cariad canvas based in Pembrokeshire have just launched a new range of glamorous camping range of tents for hire pre erected at campsites throughout Pembrokeshire, alongside their range of iconic range of tents for festival and wedding hire.
Cariad Canvas have put together a range of what they believe to be the most iconic of tents for hire and come as pre erected boutique camping accommodation on camping sites of your choice in Pembrokeshire. All of their tents, whether it be bell tents, tipis, yurts or Lavvu's can be erected and decked out lavishly with luxurious decoration options or as bare units, whatever your style or budget we have an option not only to suit you but to put a smile on your face.
With Pembrokeshire being voted as the second best coastal destination in the world by National Geographic, having over 50 beaches awarded more blue flags and coastal awards than anywhere else in the UK and boasting the only Coastal National Park in the UK, there really is no better place to go and take advantage of their exceptional boutique camping range of bell tents, tipi's and yurts. With such a distinguished pedigree as Pembrokeshire has and Cariad's range of hire boutique tents for glamping it is sure to combine into an unforgettable holiday experience.
Cariad Canvas Bell Tents
Distinctive and iconic in appearance Cariad Canvas's sumptuous bell tents can be lavishly decorated in either traditional and luxurious British glamping style or Moroccan interior styles. With two styles of bell tents to choose from both in a number of sizes you are sure to find a boutique camping bell tent to fit your budget and desired mood. Cariad's range of traditional canvas bell tents pre erected and decorated with a host of options that will make your glamping experience in Pembrokeshire a holiday you will remember fondly forever, now come in two styles either Colonial or Regency or bell tents packages have been designed to please with ease. Whatever style you choose all Cariad's bell tents have the option of allowing you to roll up the sides on warm summer days to allow a fresh breeze in and permit you to laze away your days and evenings in the luxury of your bell tent whilst watching the surrounding world go by. This feature provides an unmissable cool camping experience unique to bell tents and will leave you feeling like a king of your very own harem, definitely cool and definitely recommended.
Summary of Bell tent Types
Cariad's Regency style of bell tents offer an almost impossible higher level of sumptuousness beyond Cariad's Colonial range of bell tents with even thicker canvas, porthole windows with roll up blinds, wooden toggles, thick guy ropes, extra heavy duty ground sheets and fireproofed canvas so they can offer wood burning stoves as part of our optional extras (campsite dependant), these bell tents ooze luxury at the highest level.
Cariad's Colonial style sumptuous bell tents come in a natural canvas colour and blend into any landscape in a harmonious way, the sight of them on any campsite is sure to transfer anyone back to an age when quality canvas, robustness, luxury and smooth aesthetic lines of tents were the primary motivator, rather than the ease of erection and cheap cost associated with modern day nylon tents. Cariad's Colonial Range of Bell tents for glamorous camping (glamping), lusciously decorated in luxury British Glamping or Moroccan styles provide a harmonious boutique camping experience, designed and compiled to provide you with a holiday you will not want to leave.
Luxuriously Decorated
Whatever the weather harmony is assured inside your bell tent, once inside it is easy to forget all the rush associated with modern day life and float into a relaxed state. With Range range of luxurious decoration features it's easy to feel right at home, camping as you know it is not what they do, Cariad's luxurious bell tents come with a host of furnishings including carpets, rugs, luxurious flock air beds, luxurious throws, specially painted low level tables, dreamy tea light chandeliers, interior and exterior lanterns, external tables and chairs for al fresco eating or winding away the evenings with a glass of wine or Pimm's. Cariad's 5m range have the addition of bean bags to sink and relax into and enhance your experience.
Additionally all Cariads bell tents come with heavy duty ground sheet either zipped in or intergrated over the wall bottoms along with a number of mesh covered windows to keep those fly's out, whilst allowing fresh air flow through freely. All Cariad's bell tents also come with unique frames that surround the doorway to make that iconic shape, doors can be folded back to allow the Pembrokeshire landscape in.
Additionally now as an optional extra Cariad Canvas can also provide new sheets and bedding, which can either be taken home with you or left to be cleaned and donated to the homeless or 3rd world charities. Cariad's Bell tents come as part of a range of boutique camping packages and sizes to suit your needs, budgets and themes.
Bell Tent Sizes
The 3m bell tent will house 2 people either on a double or two single flock air beds and are ideal for either a couple or two singles, they could also be used to supplement Cariad Canvas's larger bell tents as accommodation for the children if Mum and Dad want the larger tent all to themselves!!!.
The 4m bell tent will easily house a couple looking for ultimate luxury and space to spread out all their belongings or can easily house up to 4 people, looking to experience boutique camping on either an extra double flock air bed or 2 extra single flock air beds.
The 5m bell tent can provide a sumptuous glamping experience for up to 6 people on any combination of single or double flock air beds, these bell tents really do offer a vast space to spread all your belonging out and lavish in luxury.
Traditional Tipis
Cariad's traditional and authentic Sioux style Canvas tipi's (teepee, wigwam) are sure to provide an awe inspiring glamping experience that will be remembered by all. The 18ft tipi's now come pre erected at a camp site of your choice within the designated covered areas of Pembrokeshire (campsite dependant as not all value the aesthetic features provided by tipis ) and are sure to stir up emotions of harmony with nature only achievable in a tipi. Cariads hire tipis are constructed of strong and heavy duty fire proofed canvas and come internally decorated with a host of authentic features that will make your stay as plush and memorable as possible. Camp site dependant their tipis (teepee, wigwam) can be supplied with a wood burning chimnea, smokeless fuel and protective fire guard to make your stay even more memorable and enchanting as an optional extra. All of their tipis come with rain catchers and canvas liners to make your vacation as comfortable as possible. Cariad's tipis can either be pre erected with purely a ground sheet or outfitted with gorgeous internal and external features including carpets, low level wooden tables, low level bedsteads and comfy flock air beds for up to 4 people (additional air beds are available as extras as the 18ft tipis will house up to 6 people), real cow hides, plain natural earthy coloured throws, internal and external lanterns and hand made quality wooden benches for relaxing around the fire and winding away the evenings. As part of the outfitted range all their tipi's (teepee and wigwam) come with a full range of quality camping equipment to provide everything most people will require. Additionally as an optional extra cariad can also now provide new sheets and bedding, which can either be taken home with you or left to be cleaned and donated to the homeless or 3rd world charities.
Available either pre erected in campsites of your choice within the designated areas of Pembrokeshire or as part of your hire wedding village. Only available for boutique camping in Pembrokeshire for full weeks due to the nature and time required to erect, transport and dismantle. Cupid Cloud Yurt
Cariad Canvas's enchanting 14ft Yurt with porch certainly has the wow factor, you really cannot help yourself from being impressed with the magnificence of materials and design of this Yurt when you walk in. This unique yurt can be used for many things, named cupid cloud yurt Cariad think this yurt would make the ultimate honeymoon or wedding night accommodation as it oozes love, whatever it's used for though you really can't help but love this yurt. The yurt can also be used for the ultimate glamorous camping experience for festival organisers or even performer accommodation. Alternatively the yurt could be used to compliment Cariad's larger yurts or marquee as part of a wedding or party event, providing either accommodation or ancillary luscious space for storytelling, single acoustic sets or really really posh storage, although this would upset them as they really love this yurt and feel that the yurt would be sad, doing anything but bringing people together.
Comes sumptuously decorated with carpets, wooden table, tea light chandelier, either a double Victorian style metal bed and double mattress for romantic couples, or any combination of flock air beds for up to four people, luxurious throws, rugs, lanterns, pouffes for seating, solar powered fairy lights, external feather flags, bunting, table and chairs. For wedding night yurt hire cupid can be lavishly decorated exceptionally romantically with Victorian styled metal double bed and mattress, hung drapes over the bed, crisp white sheets, bedding, decorative bed cushions lanterns and candles, flowers, champagne, chocolates and loads of other romantic touches, to make your night to remember a most special experience. For boutique camping the yurt comes complete with quality double burner cooking stove, pots and pans, kettle, water container, plates, bowls, cups, cutlery, washing up box, large plastic storage box, everything you should need/
Lavuu
Cariad's 6m lavuu, a Nordic variation of the native American tipi is ideal for large groups heading away from the camp-site, whether it be to remote wilderness or forest bushcraft locations, or anywhere where ease of setting up or breaking camp and carrying weight is key. This tent is ideal for adventure groups such as cadet or scout or even accommodation for kayaking, canoeing surfing, climbing, bushcraft clubs or groups. As this tent can be posted out or pre erected as Cariads other structures there really is no limit to the possibilities and uses of this tent, whether it is a bushcraft retreat into your favourite forest, multi day canoeing expedition in Scotland, group trek in the lake district, beach to beach sea kayaking adventures or wild camping in the remote welsh wilderness this tent is the ideal group accommodation. Alternatively for the less adventurous or those who want to have all convenience facilities on hand, whilst retaining the feel of wilderness and bushcraft living the Lavuu could just as well be used on a campsite by large families, multiple families or groups alike, thus allowing you to practice those bushcraft skills with a shower and toilet at hand, no spade necessary. Available either pre erected in campsites of your choice within the designated areas of Pembrokeshire or posted out to you complete with groundsheet, pegs, poles and strong bag ready for you expeditions.

For more information, visit cariadcanvas.co.uk.