Enjoy romantic indulgence - in an idyllic setting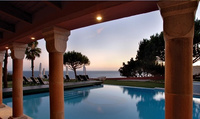 Occupying one of the most stunning locations in the Algarve, the Vivenda Miranda is nestled on the dramatic cliffs above the pretty Porto de Mós beach, no more than 2 km from the historic town of Lagos. Originally built in the 17th Century by an English nobleman as his family home, this beautiful, romantic hotel remains a secluded, intimate paradise. Boasting just 25 individually inspired rooms, each with spectacular sea or sea and garden views; the Vivenda Miranda has been sympathetically restored by its current owner Urs Wild and has lost none of its historic and individual charm.
Each room is beautifully decorated taking inspiration from either traditional Portuguese or contemporary bohemian chic styling; both exude comfort and luxury and appeal to differing tastes. All rooms have a fabulous outlook, the lower rooms over the lush gardens and ocean whilst the higher rooms offer balconies with panoramic views of the Atlantic in all directions.
The outstanding, Mirandus restaurant, is sheer heaven for foodies serving fresh, light Mediterranean style gourmet cuisine in a classic romantic setting which takes advantage of the unique panoramic sea views and beautiful gardens. The a la carte or set 5 or 7 course menus artfully created by the hotel's, Portuguese Chef de Cuisine combine the very best of local, fresh, organic produce and are served by friendly, efficient and knowledgeable waiters. An excellent wine cellar boasts a wide selection of Portuguese wines to complement the dish and the palette.
Situated next to the beautiful pool area, with infinity views over the ocean, lies the luxury wellness spa suite. Here, body and soul are pampered using a wide range of indulgent therapies and treatments administered by the highly experienced hands of resident therapist. What could be more perfect for that romantic break away with someone special?
Although the Vivenda Miranda is just perfect for that relaxing romantic break for couples, the emphasis and philosophy of this intimate family run hotel is on wellbeing and this means providing their guests with a wonderful and memorable holiday - whatever their interests. So in addition to providing relaxing, indulgent romantic breaks and an idyllic location for weddings and honeymoons, the hotel management are happy to plan, organise and book a whole host of leisure activities. Whether this is a week of golfing activities, with special rates and guaranteed tee times on the many surrounding courses, or a leisurely boat trip to take in the dramatic Algarve coastline, with dolphin watching along the way - anything can be organised for that perfect break. From windsurfing, water skiing, diving, kayaking, kite surfing, parasailing, snorkelling or deep sea fishing to horse riding, tennis, guided walks, painting or cooking - almost anything is possible.
Vivenda Miranda is a truly, indulgent grown-up hotel in every sense of the word, from the beautiful setting and uninterrupted panoramic views, to the luxurious rooms and helpful, friendly staff, where nothing is too much trouble. Then add to this the excellent gourmet food and the intimate relaxation of the peaceful spa and pool area, or the fabulous range of activities that can be arranged just for you. Vivenda Miranda is so much more than a hotel experience; it is a place where you are made to feel truly individual and special.