Touareg gains power boost as new R50 model goes on sale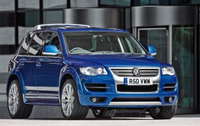 Volkswagen has revealed full details of its range-topping Touareg luxury 4x4 – the R50 – which offers customers more power and equipment, and boasts one of the most powerful diesel engines available on the market.

At the heart of the Touareg R50 is Volkswagen's award-winning 5.0-litre V10 TDI engine, uprated from 313 PS to produce 350 PS at 3,500 rpm. Beyond the power output, the R50's engine has also been given a substantial boost to produce an extra 100 Nm of torque: if the standard car's 750 Nm was more than enough to enable the Touareg to tow a Boeing 747, pulling power of an enormous 850 Nm (627 lbs ft) sets the R50 yet further apart from the crowd.

These figures translate into on road performance which would leave many hot hatches standing. The R50 accelerates from 0 to 62 mph in just 6.7 seconds, and can hit a top speed of 146 mph. Compare this, for example, with the 'R' branded Golf, the R32, which goes to 62 mph in 6.5 seconds and has a 155 mph top speed. Yet, despite its extra punch the Touareg R50 has the same fuel economy and CO2 output as the standard V10 TDI (22.4 mpg combined and 333 g/km). Naturally the R50 benefits from standard 4XMOTION four-wheel drive which is channelled through a six-speed automatic gearbox. CDC (Continuous Damping Control) with sports modification which sees the car lowered by around 20 mm is also a standard feature on the R50.

Distinguishing the R50 from the previous range-topper, the Altitude V10 TDI, are a set of 21-inch 'Omanyt' ten-spoke alloy wheels as well as the Touareg 'R' design package. This includes at the back a body-coloured roof spoiler, restyled body-coloured bumper and oval tailpipe trims. Wheel arch extensions and blue brake callipers enhance the distinctive wheels, while at the front the R50 gains a matt chrome radiator grille and louvres as well as honeycomb-style inserts in the airdams.

Inside, and on top of the Altitude V10's already luxurious specification, the R50 has 'R' logos on the pedals, door sill protectors and Nappa leather sports seats, as well as heated outer rear seats, a ski sack and a net partition.

The R50 is priced at £61,885 (RRP OTR), representing a £3,885 premium over the Altitude V10 TDI. Prices for the Touareg range start at £29,880.

Only a limited number of Touareg R50s will be available for sale in the UK. For more details, visit volkswagen.co.uk.