New common rail diesel in Touareg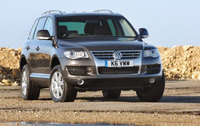 The Touareg range is set to benefit from the introduction of a revised 3.0-litre V6 TDI common rail diesel engine which promises to deliver greater refinement and a useful boost in power while returning higher fuel economy and emitting less CO2.

The 3.0-litre diesel engine fitted to the Touareg has enjoyed sustained popularity with UK buyers, accounting for 68 per cent of all sales of the vehicle. The new common rail engine draws on the virtues of the outgoing unit yet raises the power output by 15 PS to a total of 240 PS and the available torque from 369 lbs ft to 406 lbs ft. The result is a significant gain in performance, with the time taken to accelerate from 0 to 62 mph dropping from 9.2 to 8.3 seconds. Despite these gains, CO2 output falls from 278 g/km to 262 g/km. The 3.0-litre V6 engine is linked to a six speed tiptronic gearbox and four-wheel drive.

The new Euro 5 compliant engine also features a Diesel Particulate Filter (DPF) in the exhaust system, and joins the existing 2.5-litre TDI and 5.0-litre V10 TDI diesel and 3.6-litre V6 petrol engines in the Touareg range.

The new engine will be available in three trim levels – Touareg, SE and Altitude – all of which come with a comprehensive list of standard equipment. Advanced 4XMOTION all-wheel-drive linked to an Electronic Differential Lock (EDL), hill start and descent assist, air conditioning and six airbags are all fitted as standard.

Prices for the new Touareg 3.0-litre V6 TDI start at £33,465 RRP on the road, rising to £36,865 for the SE model and £39,665 for the range-topping Altitude trim level.

For more details go to volkswagen.co.uk or visit your local retailer.