Young buyer enjoys Christmas in his own ho ho home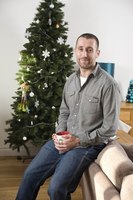 As the Government continues its support in providing affordable housing, leading housebuilder, Persimmon Homes South West, shows it's also serious about getting Exeter's first time buyers on the property ladder.
At last, Tom Willcocks, 30, a graphic designer from Exeter, is able to spend Christmas in his very own home, thanks to Persimmon's Shared Equity scheme.
Tom, who was living in rental accommodation, was desperate to get onto the property ladder in the most affordable way possible. He said: "I was throwing money away month after month paying somebody else's mortgage, which was becoming tiresome. I've always been keen to own a property, but with the current economic situation being as it is, it had become increasingly difficult for a single guy like me to secure financing."
After visiting Persimmon's Priory Walk development off Beacon Walk, Tom found out more about the Shared Equity scheme and discovered that buying was more affordable than he'd initially realised. He picks up the story: "Jane Oliver, the sales adviser at the development was brilliant; she explained all about the workings of the Shared Equity scheme and how to apply. The whole process has been really straight-forward, and the whole team was really helpful.
"From reserving, through to moving took just a few weeks. Now I've settled in, it's been great putting my own stamp on the place and I'm really looking forward to my first Christmas in my own home.
"The location of the development is great for me and the transport links made the property perfect for my daily commute, without taking anything away from the quiet 'family' feel of the cul-de-sac. It's a property I can see myself living in for some time to come."
Persimmon Homes' Shared Equity scheme enables qualifying house hunters like Tom to own 100 per cent of their property - with just a five per cent deposit - and pay just 85 per cent of its asking price, with the house builder providing an interest free loan of 15 per cent for the first five years.
Nina Hester, sales director for Persimmon Homes South West, adds "People can no longer rely on the same ease of access to finance through the mortgage market as they had done in previous years. Therefore, the onus now falls on our capacity and expertise to ensure they can still find an affordable way to buy. Whether that is by giving people like Tom as much time as possible to save for their deposit or enabling them to initially secure funding for a smaller percentage of their new home, we have the ability to do it.
"Incentives like Shared Equity have become an increasingly important part of the support we offer home buyers and I wish Tom many happy years at the development."
Whilst the Priory Walk development has now fully sold out, Persimmon is offering the Government-supported FirstBuy scheme at The Rydons, its development on Topsham Road in Exeter.
FirstBuy is offered through equity loan funding of up to 20 per cent of the purchase price split equally between the Homes and Communities Agency and Persimmon, with purchasers being required to raise funding (a mortgage plus deposit) of at least 80 per cent of the purchase price.
The Rydons adjoins Exeter Golf Club and is close to the fabulous City Centre with an array of shopping facilities, restaurants and bars. Exeter is a thriving City with lots to see and do with miles of spectacular Devon countryside and coastline on the doorstep.
With FirstBuy, apartments at The Rydons are currently priced from just £123,996. For further information, visit persimmonhomes.com.