Proud homeowner invites TV crew to dinner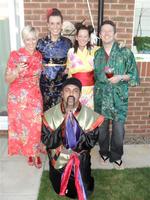 Delighted with her new Redrow home, Jessica Carroll wanted to show the property off and what better way than winning Channel 4's 'Come Dine With Me' cook-off.
Jessica took part in the hit TV show and hosted a home cooked dinner for four strangers at the new home she shares with partner Liam Bradley at Fox's Fold in Barton upon Humber – all under the spotlight of the TV cameras.
Jessica wowed guests with her Chinese menu to win the week-long competition, which aired from December 12 to 16. But it wasn't just her culinary skills that impressed fellow contestants Jose Stewart, Skip Schultz, Indy Nijjar and Sharon Wright – her new home also had them hungry for more.
Jessica explains: "When the other contestants came for dinner they didn't believe it was my house because I'm so young – they thought it was owned by my parents!
"If I didn't have such a fantastic home like this I wouldn't have taken part in the programme. It's definitely something I'm proud to show off."
With the average first time buyer now well into their 30s, Jessica, 23, and Liam, 26, appreciate that they are lucky to have been able to afford a home of their own. They've bought a four-bedroom detached home with the help of a 5% gifted contribution towards their deposit from Redrow and the added incentive of carpets throughout their new home.
"Redrow's New Heritage Collection was perfect for us because the homes look traditional outside but are modern inside. We don't have the time to renovate an older property and this way we don't have to. We've got the best of both worlds – a home that's full of charm but stylish too," Jessica added.

Their Chester style property proved perfect for taking part in 'Come Dine With Me'.
"We love socialising and really liked the layout of the Chester with its open plan kitchen, dining area and family room, which is great for entertaining - as the dinner party I hosted for the TV programme shows."
Jessica says cooking in the kitchen of a new Redrow home is a pleasure. Practical yet stylish, her kitchen is well equipped with integrated top brand name appliances including microwave, oven and fridge freezers. And thanks to floor to ceiling cabinets and extra wide drawers there's plenty of storage space for pots, pans and all the ingredients for a TV banquet!
If Jessica's kitchen extravaganza has whetted your appetite to find out more about Redrow's new home, visit Fox's Fold in Tofts Road, where the show homes are open Thursday to Monday from 10am to 5.30pm.
Current availability includes a choice of two, three and four-bedroom homes from Redrow's New Heritage Collection. Prices start from £104,999 and, with incentives available to help get people moving, homebuyers could find that owning a beautiful brand new home is easier than they realised.
For more information, visit redrow.co.uk.