Motoring website helps to lengthen life of older cars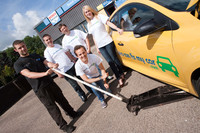 With the news that eight out of ten motorists are currently driving a car aged three years or older, a motoring website is steering these vehicles towards local mechanics for reliable servicing.
Drivers in the UK are keeping their older cars for longer, meaning that regular, reliable servicing is more important than ever to ensure that these ageing vehicles remain roadworthy. With two thirds of motorists seeking out independent garages or main dealers for their car repairs and servicing - website whocanfixmycar.com can help drivers to find trustworthy, conveniently located mechanics.
Car owners can log onto whocanfixmycar.com post their job on the website and then wait for local mechanics and garages to provide a quote. The car owner can then review all the quotes they've received, read other users' feedback and handpick the garage they'd like to use, all without disclosing any private details.
Ian Griffiths, CEO of whocanfixmycar.com, said: "With many households cutting back on big purchases in the wake of tough economic times, they're holding onto their cars for longer. On the flipside, these cars require ongoing maintenance to prevent bigger and more costly repairs from arising. Finding a mechanic you can trust, and who is affordable, is therefore crucial."
whocanfixmycar.com operates nationwide and is continually increasing garage and mechanic numbers across the country to ensure the maximum possible choice for UK motorists.
The site launched earlier this year and currently has 2,500 mechanics listed on the site, with over 2,000 current jobs posted by drivers.
For more information about whocanfixmycar visit: whocanfixmycar.com.